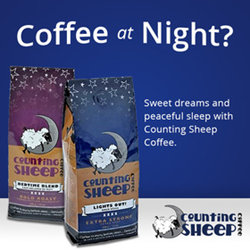 "The perfect way to start the day is now the perfect way to end it." – Counting Sheep Coffee Founder & President Deland Jessop
Toronto, ON (PRWEB) January 15, 2015
Lack of sleep is a health hazard. The tens of millions of North Americans that suffer from sleep disorders are at a higher risk for obesity, depression and heart disease. But what if the cup of coffee people normally reach for to wake themselves up in the morning can actually help them sleep at night? Enter Counting Sheep Coffee, the groundbreaking formula that combines decaffeinated coffee with the natural sedative valerian root — now for sale at Vitarock.com, North America's ethical natural health products online store.
WARM COMFORT
"The perfect way to start the day is now the perfect way to end it," says Counting Sheep Coffee's founder, Deland Jessop. "It's really fun coffee that provides a great way to relax."
Jessop, the company's self-proclaimed Sheep Executive Officer, was inspired to create a drink that his coffee-loving wife could enjoy well into the evening without sacrificing sleep." She couldn't even touch decaf at night." Valerian root's natural sedative properties did the trick, and in 2013, Counting Sheep Coffee was born.
Jessop says the online reaction for the product has been great. "People are really enjoying the coffee and the way it helps them relax. It's a little hard to keep up with the demand."
Counting Sheep Coffee is now available on Vitarock.com, the online natural health product marketplace with a conscience. Like all of Vitarock's products, Counting Sheep Coffee adheres to Vitarock's 4 pillars: Pure, Green, Safe & Fair. It's a shopping cart consumers can feel good about— and sleep easy.
About Vitarock
Based in Toronto, Canada, Vitarock is an online marketplace featuring 1000s of ethically produced natural products that don't harm your health or pollute the environment, are made with ingredients that aren't tested on animals, and contain as many fair trade ingredients as possible. They all adhere to our company pillars of Pure, Green, Safe and Fair.