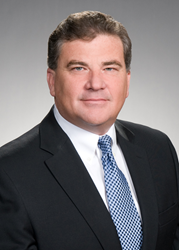 Cheyenne, WY (PRWEB) January 15, 2015
Patrick Day has been appointed administrative partner for Holland & Hart LLP's Cheyenne office, effective Jan. 1, 2015. In this role, he assumes responsibility for overseeing the management and strategic development of the office.
Day is replacing Walter Eggers, who has served as the AP for the Cheyenne office for the past four years.
"I am excited about the opportunity to continue advancing the many new initiatives overseen by our outgoing administrative partner Walter Eggers," Day said. "Holland & Hart's Wyoming offices are brimming with talented young lawyers building the future of our practice in Wyoming, and it will be my privilege to do everything I can to promote their success and continue our work advancing access to justice in Wyoming and representing the many energy and natural resource companies that represent Wyoming's future."
Day is a member of the firm's Environment, Energy & Natural Resources group, representing coal producers, oil and gas companies, pipelines, refineries, power plants, and gas plants. He represents energy companies in environmental litigation in state and federal courts around the country as well as before state agencies. His experience includes oil and gas disputes, class actions, ad valorem and severance tax disputes, as well as Clean Air Act permitting and appeals.
Day has been an attorney with Holland & Hart practicing from the Cheyenne office for 30 years.
"As the most senior partner in the Cheyenne office, Pat will bring calm, steady leadership to the office, as well as ensure the continued excellence we provide to our clients," said firm Chair Liz Sharrer. "Pat has served in the AP role in the past, and we greatly appreciate his willingness to take it on again."
Since opening in 1981, Holland & Hart's Cheyenne office has been a leading natural resources and commercial law office in Wyoming. Along with the firm's Jackson Hole office, it is one of the largest firms in the state. The 14 attorneys in the Cheyenne office use their local experience and the resources of a regional office network to provide a full range of legal services to many of the largest energy companies and commercial businesses operating in Wyoming. From sophisticated business transactions to complex litigation and natural resources issues, the firm provides sound, efficient counsel to clients on matters including mining, oil & gas, refining operations, water, pipeline interests, and a wide range of other commercial and industrial enterprises.
–30–
About Holland & Hart
Holland & Hart LLP delivers integrated legal solutions to regional, national, and international clients of all sizes. Since its inception in 1947, Holland & Hart's more than 470 lawyers have consistently been recognized by leading national and international peer and industry review organizations for innovation and dedication to the practice of law. For more information, visit http://www.hollandhart.com.