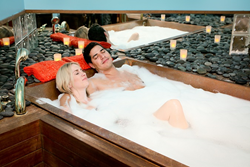 Los Angeles, CA (PRWEB) January 15, 2015
Long known for its many treatment options for couples, Le Petite Retreat Day Spa in Larchmont is undergoing a name change just in time for Valentine's Day. Recently purchased by a former tech exec who decided she needed a change from her 90-hour a week, multi-country corporate job, the Indochine style, indoor-outdoor spa is offering two new Valentine's Day Packages built around a new theme of "Disconnect to Reconnect."
The newly renamed Larchmont Sanctuary Spa is unveiling a Valentine Day "Reconnect Package" that includes a couple's massage and bubble bath with a twist. The treatment also includes take-home relationship-building activities – geared to both Millennial and Baby Boomer couples – from the esteemed experts at The Gottman Institute. Each couple will receive a cards -- that stimulate conversation and encourage them to strengthen their bond -- designed by the husband and wife therapists whose groundbreaking research over the past 25 years is famous for predicting within 94% accuracy if couples will stay together.
For couples who prefer to let their senses do the talking, a second Valentine's Day Package being offered is the "Aroma d'Amour Bath and Massage," which includes a 30-minute aromatic bubble bath of sandalwood, yang-ylang and jasmine essential oils and a 60-minute aromatherapy Jade Stone couple's massage priced at $395.
The spa is decorating for the occasion as well, with candlelit treatment rooms and rosebuds sprinkled on the massage beds. Champagne & mimosas will also be served starting at 1:00 pm on the Friday of Valentine's weekend, along with organic snacks like chocolate covered strawberries, nuts and cheese. Each couple who visits on Cupid's favorite weekend will also receive a parting gift of Aroma d'Amour Bath Salts for home use, complete with a Love Note keepsake. Couples are encouraged to book early since space in this romantic, boutique spa is limited.
In a nod to giving the gift that keeps on giving, these and other spa treatments can be also be purchased as gift certificates as a romantic gesture to enjoy on a later date.
Valentine's Day Reconnect Package – $420:

Couples Champagne Bath For Two – Stresses will melt away while enjoying champagne and luxuriating in the spa's signature copper tub, surrounded by bubbles and a field of flickering candlelight.
(30 minutes)

Signature Jade Stone Massage for Two – Balance yin and yang energies with the hot and cold stones. The heat increases circulation and relaxes muscle tissue while the coolness reduces inflammation and flushes out toxins through the lymphatic system. (60 minutes)
For Millenials – Love Map and Open-Ended Question Cards enable partners to connect emotionally and increase intimacy and understanding in a fun, gentle way. Research shows that a powerful predictor of relationship stability is whether couples allocate "mental room" for their partner's world. This means having a mental map of the relationship and its history, and knowing each partner's past and present concerns, preferences, experiences and reality.
For Baby Boomers – 52 Questions After 50 Cards – A take home deck of cards that make it easy to discuss topics big & small ... now that a person has grown older and wiser, how will they live the second half of their life? Set aside some time to be thoughtful about the big questions.
___________
"The spa's new theme was born from a place of true understanding," Figueroa says with a smile as she explains that being able to put more time into her own relationship was the reason she made a life changing move into the spa world. "The goal is to encourage couples to spend quality time together, face-to-face with no electronic or digital distractions and the take-home activities will make the experience much more than a one-day event."
Located at 331 N. Larchmont Blvd. Los Angeles, CA 90004, the spa is closed on Tuesdays; open until 9 pm Wednesdays through Fridays, and 7 pm the rest of the week. Book online at http://www.lprdayspa.com or call 323.466.1028.
###