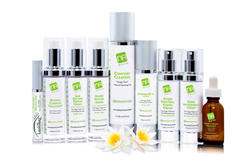 "As a man of color, I can proudly say that NR Skin products draw absolutely NO color lines and they've really made a huge difference to me," comments entertainment superstar Kevin Dorsey.
Woodland Hills, CA (PRWEB) January 15, 2015
The skin rejuvenation power of NR Skin products has now been touted by Kevin Dorsey, the multi-talented superstar who served as Music Director for Michael Jackson, worked for legendary producer and composer Quincy Jones, and famously created the unforgettable "Oh Yeah" voice-over line in Ferris Bueller's Day Off.
And now he's saying "Oh, Yeah!" to NR Skin products.
Kevin remarks, "As an entertainer, on stage or on camera, you must look your very best.  Night in and night out, having heavy stage makeup applied to your face takes its toll.  It's difficult as a man to find products to protect and replenish your skin, and even more difficult when you're a person of color."
After consulting with NR Skin Founder and CEO Nancy Ryan about his hyperpigmentation (dark spots) and other skin concerns, Kevin began a customized regimen of various NR Skin products, including: the Comfort Cleanser, Neuro-Peptide Serum, Citrus Stem Cell Fusion Cream and Super C Serum.
According to Kevin, "The Comfort Cleanser makes my face feel like I was just in a spa.  My skin feels so refreshed and clean, fantastic! The Neuro Peptide Serum places me in the mind set of being the immune system for my skin— it doesn't feel oily and doesn't leave my face shiny or anything like that,and it makes me feel that my skin is actually healthy.  The Citrus Stem Cell Fusion Cream makes me feel like my face is prepared for now and the future.  It's a very light cream that does so very much for your skin, it's a must for my daily regiment!  The Super C Serum is a MUST for my skin.  I have a skin condition called hyperpigmentation, which causes dark blotches on your facial skin.  The Super C Serum, has actually begun to lighten the dark spots and even out my skin tone. I've always been a very confident person, but to begin to see actual skin improvement in an area that I had TOTALLY given up on, truly made me an NR Skin System believer. As a man of color, I can proudly say that NR Skin products draw absolutely NO color lines and they've really made a huge difference to me."
For more information about NR Skin products, visit: http://www.nrskin.com