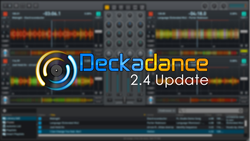 Control Deckadance using MIDI controllers, timecoded vinyl and CD systems.
(PRWEB) January 17, 2015
Deckadance 2 is a DJ mixing application, working as either as a standalone program or as a VSTi inside your favourite host. Deckadance can also host any VST synth or effect.
WHAT'S NEW

Elastique v3 engine with improved transient processing.
Multi controller support (via scripting).
Added native support for Behringer CMD 2A.
Added native support for Casio XW-DJ1.
Fixed iTunes library importing problem for OSX (Yosemite update).
Fixed manual editing of file paths in the song manager.
Changed preferences dialog window for MIDI scripting and ILRemote.
The following script commands are now momentary: SYNC_LOCK, SNAP, LOOP, LEAP, KEY_LOCK, FX_(HIGH/MID/LOW)_BAND_GROUP and EFFECT_ON.
DOWNLOAD LINKS
Get the latest installers here
Established in 1994, Image Line Software provides high quality music applications to the computer-based music community and is well-known for its leading digital audio workstation FL Studio (formerly FruityLoops), FL Studio Mobile for Android and iOS; high-quality synthesizers including Autogun, DirectWave, Drumaxx, Groove Machine, Harmless, Harmor, Morphine, Ogun, Poizone, Sakura, Sawer, Slicex, Sytrus and Toxic Biohazard. Innovative effect plugins including Gross Beat, Hardcore, Maximus, PitCher & Vocodex; and finally, a wide range of sample libraries used in their multi-sampler plugins DirectWave and Soundfont Player. Image-Line also produces the acclaimed DJ mixing software application Deckadance. In addition to its audio software, Image Line Software develops and distributes the web site building application, EZGenerator.
For more information, please contact:
Scott Fisher, Communications Manager
Image Line Software
E-mail: press(at)image-line(dot)com