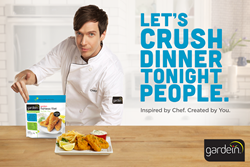 Los Angeles, CA (PRWEB) January 16, 2015
Gardein (gardein.com), the award-winning plant protein brand found in more than 22,000 supermarkets nationwide, has tapped LA-based creative company, Omelet (omeletla.com), for its first national awareness campaign. Launching with three unique videos running in online media, the campaign uses the tagline "Inspired by Chef. Crushed by You." to illustrate how anyone can create delicious, easy, and convenient plant protein meals, courtesy of Gardein.
Designed to make plant protein accessible to the masses, the spots feature a guy named "Chef," a personification of the brand, who is fun, relatable, and instantly likable. Chef is everyone's favorite inspiration in the kitchen, but despite his name, that's not what he does. Instead, Chef provides quick-witted, playful, and genuine inspiration to crush any meal.
"Gardein came to us looking to break through in the meat-free category with something that matches their playful and innovative brand personality. This campaign does that while also emphasizing how relatable and craveable the products really are," said Sarah Anderson, Omelet's Chief Creative Officer. "We're very excited to be working with such a forward-thinking brand and we look forward to a long lasting relationship."
Gardein's items are designed by founder and classically-trained chef, Yves Potvin, and feature customer favorites like 7-Grain Crispy Tenders, Mandarin Crispy Chick'n, and Golden Fishless Filets – all made from a blend of non-GMO soy and wheat, ancient grains, and veggies. Throughout the campaign, fans can also visit Gardein.com/MeetChef to download a coupon for $1 off all products.
"We want to educate people on the power of plant protein and take down the intimidation while we're at it," said Russell Barnett, Chief Marketing Officer at Gardein. "We were so impressed by Omelet's strategic insight and creative bravado, taking food advertising to a non-traditional yet very relatable place. We're excited to debut a campaign that perfectly aligns the brand as a tasty and healthier option within meat-eating occasions."
About Gardein™:
Gardein (garden + protein) is a plant-based protein brand offering a variety of delicious, convenient and versatile foods. Gardein tastes good, is good for you and good for the planet. The fastest growing brand within the category, Gardein creates mouthwatering center-of-plate foods people love that deliver real meat taste, texture and nutrition—with no cholesterol and less fat and calories than traditional proteins. Gardein's award winning products are made from non-GMO soy and wheat, ancient grains and veggies. Gluten-free options are also available in Gardein's broad product portfolio. Gardein is available at over 22,000 retail locations as well as over 5,000 restaurants and 100 colleges, universities as well as other venues across North America. For additional information and expertly crafted recipes, visit gardein.com.
About Omelet:
Omelet is a creative company that solves complex marketing problems for progressive partners, including AT&T, Coca-Cola, Microsoft, and Moët & Chandon. The company also has divisions including Omelet Studio, Omelet To Go, and Omelet Brands to create original brand programming, live interactive experiences, and original owned intellectual property.
http://www.omeletla.com
Contact:
Devin Desjarlais
Omelet PR Manager
devin[dot]desjarlais[at]omeletla[dot]com
424-672-8606