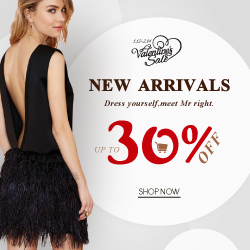 All the items in the collections are hand-picked for lovers.
(PRWEB) January 20, 2015
Valentine's Day is approaching. There is a piece of good news from Fecbek.com. Recently, Fecbek has announced its Valentine's Sale.The promotion will be valid until Feb.14th, 2015, and heavy discounts are being offered on bags, dresses and lingerie.
The collection of dresses is named Dress Yourself, Meet Mr Right. The beautiful and shiny prom dresses come in various styles; there are vintage dresses and homecoming dresses as well as a range of stunning prom dresses. The items of this new arrival are all characterized by the stereo modeling, the drapability, the simple cutting and pure colors. What's more, they still remain simple and stylish. Meanwhile, there are natty designs with fashion elements such as sequins, leopard print, geometrical pattern, multi-pattern, lace and so on.The attractive discount on this collection is up to 30% off.
The collection of bags is named in Best Gifts For Lovers. Fecbek understands the meaning of gifts for lovers. So it provides lovers a selected series of fashion forward yet timeless handbags, clutches, totes, and more for the gift giving time. From classic silhouettes to chic combinations, each handbag in this collection has its own story to help customers to keep such sweet memories. Customers can buy their favorite bags 40% of the current prices.
The collection of lingerie is named A Special Night For Special Lovers. The collection includes the lace-cami-top style, the fishnet style, the embroidered mesh style, the G-string style and even the sexy pajamas, the most popular patterns for Fecbek.com shoppers. The big discount on this collection is up to 50% off.
"We are happy to unveil the wonderful selections for Valentine's Day; All the items in the collections were hand-picked for lovers. I hope our old and new clients will love them. Now, all the staff of our company is working hard and rising to the challenge," the spokesman states.
Fecbek.com has updated its website for the special day , and customers can place an order just in a few minutes. To find out more, please visit http://www.fecbek.com.
About Feckbek.com
Feecbek.com is a leading online retail and wholesale store specializing in selling clothing, shoes, bags, wedding and occasion dresses, cosplay, costumes and beauty products. With a wide selection of products at a low price, the company has been universally recognized for honesty, high efficiency and thoughtful services; it has built a long-term relationship with many customers.