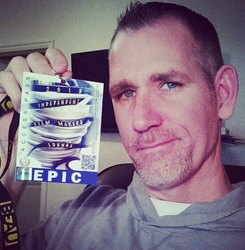 "We are honored to see so many famous, creative and adoring people visit our Lounge each year. Meet everyone, because you never know the opportunity of the person standing next to you." ~ Daniel Thompson, Visionary for Power & Industry
Los Angeles, CA (PRWEB) January 15, 2015
The Sundance Film Festival happens once a year. Movies are bought and sold as entertainment commodities for hundreds of aspiring filmmakers and veteran actors, but just as popular as the silver screen presentations are the myriad of private parties, lounges and who's who events that blanket the small town of Park City, UT. On Jan. 22-25, 2015, located at 710 N. Main St. in the coveted Courtyard Summit, attendees are offered an escape from the barrage of movie premieres and meetings. Illuminating from the epicenter of the Sundance Film Festival, the Independent Filmmaker's Lounge and its exhibition of talent, celebrity high life, gifting and entertainment have tailored this invitation-only lounge as more than a destination but as an experience that comes with influence.
With an iconic presence, the Indie Lounge as it is more commonly referred to, is widely known not only as an industry hotspot but also for its hospitable environment and full service Snap Daddy's gourmet catering inserted in the background of this entertainment oasis. This year's live music, presented by Koffeehouse, will play home to Andy Frasco, Kallie Therian, Brian Ashley Jones, D'Lannie Brown, Micah Gardner, Travis McClung, Chef Sean, DeAndre Wright, T!M Ned, Nathan Osmond, Matthew Reese, Simply B, Stephanie Mabey and Jaysin Voxx.
After dark at the lounge on Fri., Jan. 23 from 6 p.m. to 8 p.m., fans of the former "Ralph Malph" Happy Day's actor will be delighted, as the now jazz singer presents "An Evening with Don Most: A Tribute to Frank Sinatra, Bobby Darin and Dean Martin." Sat., Jan. 24 from 6:30 p.m. to 8:30 p.m. "Dish Nation's Sundance Survival Party Hosted by Darnaa" is sure to pack a star-studded crowd with a live performance from the EDM recording artist herself. Thereafter, Hip Hop royalty Raekwon and Ghostface Killah of the internationally acclaimed Wu-Tang Clan will host a sneak peek screening, cocktails and Q&A" from 9:30 p.m. to 12:30 a.m. Polishing off the weekend, Sun., Jan. 25 from 8 p.m. to 12 a.m., Madflower Creative Group and RallySong have joined global humanitarian/filmmaker Kweku Mandela (Nelson Mandela's grandson) to present "REPRESENT." The party is in support of Operation Underground Railroad, a non-profit organization that rescues kidnapped children from slavery around the world.
Film screenings, junkets and Q&A's taking place presented by BEAU (Broadview Arts & Entertainment University) include "Censored Voices," "Racing Extinction," "Kurt Cobain: Montage of Heck," "How to Dance in Ohio," "Sembene!," "47 Minutes," "Clinger," "Resurrection of Jake the Snake" and LGBT film "Charlie." Nicolas Cage, Ewan McGregor, Michael Cera, John C Reilly, Jack Black, Keanu Reeves, James Franco, Spike Lee, Zachary Quinto, Guy Pearce,"Stone Cold" Steve Austin, Chris Jericho, Diamond Dallas Page, Blake Anderson, Charlie Carver, James Valentine, Don Most, Raekwon, Ghostface Killah, Ralph Macchio, Eli Roth, Lorenza Izzo, Brando Eaton, Christina Robinson, plus many others will be amongst some of the famous faces to grace the Indie Lounge. Print, online and broadcast exclusive media partners Life & Style Magazine, Hollywire, Fox's Dish Nation and Hollywood Today Live will be onsite, capturing interviews with them all.
With a fine selection of imported Stetson wine, tequila, whisky, Rumchata rum cream liqueur, Stella Artios beer, ABK 1308 "Rose" and "Hell" craft beer and Rex Velvet Vodka, the fully stocked bar offers both old favorites and new surprises. On Sun., Jan. 25 at 5 p.m. the Indie Lounge will host a unique "Absinthe Tasting Experience" in honor of the new film "The Green Fairy" starring Roddy Piper, Linda Blair and Richard Grieco.
VIPS will enjoy premium gifting from award-winning smartphone maker, Saygus, Olympia luggage, Nuvsio Purifying Mineral Masks, Northshore Goodies, I.C.O.N. Hair Products, Jet Dor private airline flights, Dupont Registry, Columbia Sportswear backpacks, Go Avitae! Caffeine + Water, Beer Soap Company, Taylor AV, Kahoy Kollection Eyewear, Snow Lizard electronic batteries and hard shell cases, JJ Bolda Necklace Designs, Layfin Organic Skincare, PCA Skin Refine, Hatch Family Chocolates, Ruby Roxanne Design armwear, Nomadic State of Mind footwear, Gem Mountain Studios jewelry, Ash Parker clothing and scarves, Luana Naturals, America's Top Dog Model, Del Cove Spice Company, Fulham mineral infused water, Icelandic Glacial Water, Reserve personal dining concierge, Curls Coconut Curlada, Aspen Herbals, D.r.a.g. Book, Troll on the Bow, Powbab superfruit chews, Flint Creek Soap, "Be Like Brit" book, "Singing the Song of Life" book Uneeke Yoga Towels, Divino gelato, Bare Collection, My Pichi smart phone cases, Next Level Ride Austin Cable Park, Tallfellow Press "From Crime to Crime - Mind-Boggling Tales of Mystery and Murder" and "Doing It For Money - The Agony and Ecstasy of Writing and Surviving in Hollywood," Dj Don Vaughn, Sassy Gals Wisdom, Vance Family Soy Candles, a week stay at The Villa on Coral Island and courtside at a Utah Jazz NBA basketball game during the Festival.
The Indie Lounge invites you to #GetScene at the 2015 Independent Filmmaker's Lounge and look forward to having you as our guest!
For more information on Power & Industry's lounge, to view its complete 2015 schedule and/or obtain guest credentials, please visit their website.
ABOUT Daniel Thompson/Power & Industry: Daniel Thompson and Power & Industry are two names that have become key elements at the Sundance Film Festival. Best known in the entertainment industry for his highly successful Flip Men series on Spike TV, Daniel and his team have won praise for unparalleled service, creativity and dedication, gaining a reputation for unmatched ingenuity in creating high impact launches alongside our core work - developing comprehensive long-term PR and production programmes for clients. Offering expertise in key areas of communication including; Media Relations, Consultancy, Social Media, Guerilla Marketing and Stunts, Broadcast Consultancy, Crisis Management, Celebrity Endorsement, Events and commercial production, we are a leader in TV and film production companies.
P & I works with top writers, performers and program makers to produce great programming. Through creation of genre-defining, ground-breaking and most importantly popular quality programming for all broadcasters as well as major international markets, the company has been producing hits for almost a decade. With head offices in Utah, one would be hard pressed to discover the major empire Daniel Thompson commands over many markets. Despite his many production companies, vast real estate holdings, and philanthropic charities, Daniel instantly makes one feel like family.