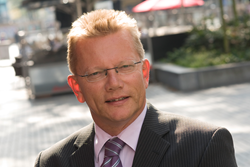 This year's GFSI Conference showcases the value of independent assurance in driving food safety across the whole food supply web, not just in Asia, but globally
(PRWEB UK) 15 January 2015
Hundreds of food safety specialists from across the world will be gathering in Kuala Lumpur between 3-5 March for the Global Food Safety Conference organised by the Global Food Safety Initiative (GFSI) and the Consumer Goods Forum. The conference is designed to bring together food safety professionals in order to share knowledge, discuss best practice and drive innovation throughout the industry.
For the first time in its history, the conference is being held in Asia. Cor Groenveld, Global Head of Food Supply Chain Services at LRQA has spoken of the importance of this choice, "This year's GFSI Conference in Malaysia is of great significance for the food industry as it provides a key and ideal location to showcase the value of independent assurance in driving food safety across the whole food supply web, not just in Asia, but globally."
LRQA will be speaking at one of the main plenary sessions, which is being held at 1100 hrs on Wednesday 4 March. The session, entitled 'Collaboration in the Food Supply Web' will take delegates on a journey from the perspective of key organisations serving the global food supply chain. Confirmed speakers include Mark Overland, Director, Global Certification, Corporate Food Safety and Regulatory Affairs, Cargill Incorporated, who will look at the role of the manufacturer/processor in delivering safe and quality products to market. Insight will also be provided from Jan Kranghand, Director Regional QA MCCI Asia/Head of QA MCC China, Metro Group who will look at food safety across the supply chain from a retailer's viewpoint.
Further perspectives will be provided by the World Bank and the role that they have to play in harnessing public and private sector resources in driving food safety - particularly in developing countries.
The session will also feature insight from a supplier and the opportunities and challenges that working with some of the world's leading food sector organisations present.
For more information about our range of food services, visit http://www.lrqa.com or get involved with us during the conference on Twitter using #GFSC2015.
Ends
Notes to editors
About LR Management Systems (LRQA)
LRQA is a member of the Lloyd's Register group. LRQA is a leading independent provider of assurance services including assessment, certification, validation, verification and training across a broad spectrum of standards, schemes and customised assurance programmes.
About Lloyd's Register (LR)
Lloyd's Register is a global engineering, technical and business services organisation wholly owned by the Lloyd's Register Foundation, a UK charity dedicated to research and education in science and engineering. Founded in 1760 as a marine classification society, LR now operates across many industry sectors, with over 9000 employees in 78 countries.
Lloyd's Register has a long-standing reputation for integrity, impartiality and technical excellence. Our compliance, risk and technical consultancy services give clients confidence that their assets and businesses are safe, sustainable and dependable. Through its global technology centres and research network, Lloyd's Register is at the forefront of understanding the application of new science and technology to future-proof its clients' businesses.