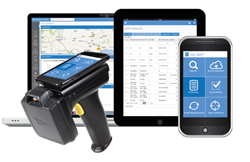 Austin, Texas (PRWEB) January 15, 2015
Radiant RFID today announced that Houston Airport Systems has selected the technology company's Virtual Asset Tracker (VAT), a passive-based RFID asset tracking solution to inventory and track flight display equipment positioned around the terminals at Bush Houston Intercontinental Airport.
Like many of Radiant's customers, Houston Airport Systems has moved from a barcode-based system to RFID technology to reduce inventory time and effort. VAT not only handles the "where is my…" question with speed, reliability, and ease, it also enables managers and chief financial officers to successfully respond to audits while improving overall asset tracking accuracy and efficiency.
Prior to implementing VAT, inventories were done during off hours and required shutting down or limiting access in walkways and terminals due to the heavy equipment required to access the assets' barcodes. RFID technology eliminates line-of-sight requirements. During the inventory process, VAT quickly reports what assets are assigned to, located within, or missing from a location. This information enables administrators to rapidly and accurately reconcile inventory and account for asset movement, reducing inventory time by 90% and greatly increasing visibility.
VAT's leading-edge capabilities enable customers like Houston Airport Systems to better solve complex organizational challenges. The solution features real-time notification when assets are moved between locations, advanced mapping, logic-based reporting and subscriptions with automated asset flagging, an easy-to-use, modern UI with configurable dashboards, and API integration.
The solution's ability to seamlessly integrate into other systems of record was of key importance in the selection process. Radiant's customers typically have existing systems that track maintenance, depreciation, and other items for assets - but not physical location.
Radiant is deploying a passive-based RFID solution that includes UHF Gen2 RFID tags, hosted RFID software, on-site training, and VAT 2Go, the mobile companion app to VAT. By pairing an iOS or Android smartphone or tablet to an RFID sled, the app delivers all the functionality of a traditional handheld reader.
About Radiant RFID
Radiant RFID, LLC provides complete solutions that keep track of the world's most dynamic assets. As a leader among RFID companies, Radiant's customers include large corporations, higher educational institutions, and public agencies. For more information call (512) 351-4915 or visit http://www.radiantrfid.com.