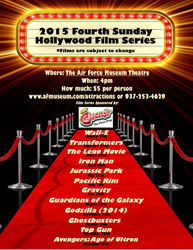 Tickets are only $5.00 a person for each film and all films will start at 4 pm.
Dayton, OH (PRWEB) January 20, 2015
January 07, 2015 The Air Force Museum Theatre is pleased to announce that Cassano's Pizza King will be sponsoring the 2015 Hollywood Film Series. This film series features Hollywood blockbusters and classic favorites on the largest screen in Southwest Ohio on the 4th Sunday of each month.
The first film for 2015, the animated and heart-warming film Wall-E, will premiere at the Air Force Museum Theatre on January 25. February's film will feature a different variety of robots. The theatre will screen the 2007 blockbuster Transformers-starring Shia LaBeouf and Megan Fox– on February 22.
Transformers will be followed by: The Lego Movie on March 22, Iron Man (2008) on April 26, Jurassic Park on May 24, Pacific Rim on June 28, Gravity on July 26, Guardians of the Galaxy on August 23, Godzilla (2014) on September 27, Ghostbusters on October 25, Top Gun on November 22 and Avengers: Age of Ultron on December 27.
Tickets are only $5.00 a person for each film and all films will start at 4 pm. This year's Full Year Passes are available for purchase at the price of $40.00 per person, or $35.00 for Friends' Members, at the theatre box office. This is a 33% discount off an already great price!
In addition to the Hollywood series, the theatre's daily schedule includes films such as: D-Day: Normandy 1944, Fighter Pilot 3D, and Hidden Universe. For more information and to purchase tickets, visit http://www.airforcemuseum.com
The theatre is operated by the Air Force Museum Foundation, Inc., a Section 501(c)(3) private, non-profit organization that assists the Air Force in the development and expansion of the facilities of the National Museum of the United States Air Force. For more information on the Air Force Museum Foundation, visit http://www.airforcemuseum.com. The Air Force Museum Foundation is not part of the Department of Defense or any of its components and it has no governmental status.
The National Museum of the U.S. Air Force, located at Wright-Patterson Air Force Base near Dayton, Ohio, is the world's largest military aviation museum. With free admission and parking, the museum features more than 360 aerospace vehicles and missiles and thousands of artifacts amid more than 17 acres of indoor exhibit space. Each year about one million visitors from around the world come to the museum. For more information, visit http://www.nationalmuseum.af.mil.
-30-
NOTE TO PULIC: For more information, please contact the Air Force Museum Theatre at 937-253-4629 or visit http://www.airforcemuseum.com or email theatre(at)afmuseum(dot)com
NOTE TO MEDIA: For more information on the Hollywood Film Series or the Air Force Museum Theatre, contact:
Mary Bruggeman, Chief, Theatre Operations, 937-656-9623, mbruggeman(at)afumuseum(dot)com
Eric Henry, Theatre Manager, 937- 656-9627, ehenry(at)afmuseum(dot)com