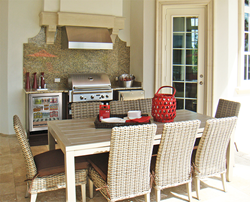 Clearwater, FL (PRWEB) January 15, 2015
Arthur Rutenberg Homes, a luxury custom home builder is already encouraging consumers to start thinking about warmer weather entertaining. Specifically, their new article discusses how an outdoor kitchen may be the next investment home owners or those building now may want to invest in.
It's becoming trendy for many people to prepare a lot of their meals outside these days. Pinterest is filled with outdoor kitchen images from the simple to the extreme. Everyone seems to be interested in that outdoor kitchen project, from DIY to a crew of installers invading the home to set it up. The home builder asserts that cooking outdoors on the grill is a great way to entertain company or just feed a family.
While the home builder's customers will likely be more interested with installing higher end outdoor kitchens, the article touts the ability for anyone to develop and benefit from outdoor kitchens. The article reviews ideas for grills, grilling accessories and even lighting for an outdoor kitchen. Additionally, even setting up an outdoor kitchen for safe food preparation is discussed.
The article provides good information and ideas regarding outdoor kitchens and seems to benefit everyone, not just those building luxury custom homes. Read the full article here.