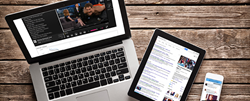 Our strong fourth quarter capped a pivotal year as we significantly accelerated iQ media's growth.
Conshohocken, PA (PRWEB) January 15, 2015
iQ media, a leading media intelligence technology company, today announced year-end 2014 results showing strong growth as marketing and public relations professionals continued to show increased demand for innovative media monitoring tools to more accurately measure PR and marketing efforts for their brand.
iQ media revenues for the year ended December 31, 2014 grew by 234% as compared to 2013 results. This also marked a 197% increase in revenues as compared to Q4 2013.
iQ media has emerged as an industry leader in the public relations and marketing sectors as evidenced by the more than 100 new customers the company added in 2014. New iQ media customers include large, global brands such as StubHub, Olympus, Five Hour Energy, Wynn Resorts and the National Wildlife Federation, among others. The company announced more than 35 product updates in 2014 to meet growing customer demand, leveraging the power of the company's innovative and flexible technology platform.
"We selected iQ media as our media monitoring tool because it offers an easy-to-use interface to identify and organize our media coverage. In addition to having new content pushed to our feeds daily, using Discovery and Timeshift, we're able to retroactively search for articles and broadcast segments. These functions were included in our cost-effective subscription and attractive for collecting data for media analyses. iQ's account manager and support team have been pleasant to work with and attentive throughout the transition, set up and training process," said Kimberly Ciesla, Associate Manager of PR & Communications for Olympus Corporation of the Americas' Medical Systems Group.
"Our strong fourth quarter capped a pivotal year as we significantly accelerated iQ media's growth," said John Derham, CEO of iQ media. "We continued to increase market share across all verticals adding customers from small businesses to Fortune 100 companies. Our success is a direct result of the innovative ways in which we are reshaping media intelligence and creating insight that was never previously available."
Building on last year's strong growth, iQ media has identified Washington D.C. as a key market to drive further growth in 2015 and beyond. iQ media's new D.C. office as well as the previously announced New York City office, will be dedicated to client management and business development. These locations were strategic due to the wealth of local talent in the heart of these Mid Atlantic technology hubs.
"Building and scaling a high-quality sales and business development team is a key driver to our continued success," said Kye Strance, president of iQ media. "In addition to our New York City office, D.C. offers an excellent talent pool of professionals from leading technology companies who have the experience to help us better serve our customers and complement our current team in our Philadelphia headquarters."
With these two new offices opening in Q1 of 2015, the company remains committed to employee growth and job satisfaction. iQ media recently won an award as one of "Pennsylvania's Best Places to Work", placing 16 out of 72 small to medium sized companies, showcasing the company's continued commitment to employees.
About iQ media
iQ media is a leading media intelligence technology company focused on transforming the way that companies monitor their brand across broadcast TV, online news, and social media. iQ media's suite of media intelligence tools allows marketers, public relations experts and others across an organization to better assess the success of both paid and unpaid media opportunities. iQ media's cloud-based database, cliQ, empowers clients to move beyond media monitoring to proactively leverage media content to drive topline revenue and further their strategic communications goals. iQ media clients include: Legg Mason, Maserati, Nutrisystem, the NFL, the NHL, the National Wildlife Foundation, Puma, and SiriusXM among others. To learn more, please visit: http://www.iqmediacorp.com.