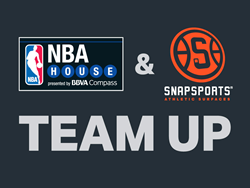 "SnapSports Sports Flooring exemplifies the safety, performance, and quality that it is important to the NBA." - Adi Wilk, NBA Director of Events
Salt Lake City, UT (PRWEB) January 16, 2015
Following a successful 2014 NBA All-Star Jam Session and a record breaking NBA Nation Summer Tour partnership, Salt Lake City-based SnapSports has been selected by the NBA as the Official Court of NBA House Presented by BBVA Compass– taking place in two locations in NYC during NBA All-Star 2015 Weekend. Both NBA House premier fan events, located in Brooklyn and in Manhattan, will feature over 15,000 square feet of SnapSports industry leading TuffShield®Maple Revolution® basketball courts. TuffShield Maple is the athletic surface of choice for the NBA due to the real wood look, top performance, durability, and superior safe play rating guaranteeing safety for athletes and fans of all ages and skill levels.
"SnapSports has been great to work with throughout the last year, their level of expertise and commitment to customer service are unmatched," said Adi Wilk, NBA Director of Events. "SnapSports Sports Flooring exemplifies the safety, performance, and quality that is important to the NBA."
The 64th NBA All-Star Game will take place on Sunday, Feb. 15, at Madison Square Garden. The BBVA Compass Rising Stars Challenge on Friday, Feb. 13 and State Farm All-Star Saturday Night on Saturday, Feb. 14, will both take place at Barclays Center in Brooklyn. In combination with the two NBA House fan locations in Skylight at Moynihan Station and LIU Brooklyn Paramount Theatre, the 2015 NBA All-Star theme 'Battle of the Boroughs' is well represented. LIU Brooklyn's NBA House is set to thrill the biggest NBA fans with a SnapSports full-size regulation basketball court that will host competitions, skills challenges, and appearances from NBA legends and current players . Moynihan Station will feature a SnapSports custom half court for interactive activities, video highlights, and skills challenges. SnapSports is proud to be a part of the largest and most comprehensive NBA fan experience in the world.
"The NBA is recognized as the world's premier basketball organization and is home to the world's elite players and coaches," said SnapSports CEO Jorgen Moller. "We are all very proud that the NBA recognized the technological advantages found throughout our sports flooring line and chose SnapSports as their partner of the future."
SnapSports manufacturers 24/7 in their 150,000 square foot ISO 9001:2008 Quality certified facility in Salt Lake City, Utah. SnapSports is the Official Court of The 2014 NBA Jam Session, NBA Nation, 2015 NBA House presented by BBVA Compass, The United States Futsal Federation, AAU Jam On it, AAU All Under one Roof and USA Team Handball. SnapSports is an official FIBA Technical Partner and has been a proud past partner of The Special Olympics, The National Veterans Wheelchair Games, The Volleyball Festival, Gus Macker 3X3, The Vanilla Ice Project, World Police & Fire Games and The National Collegiate Roller Hockey Championship to name a few. SnapSports surfaces are made in the USA and played on around the world.