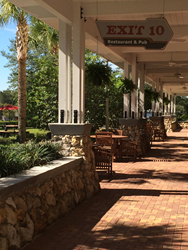 "Our RV Resort is a true reflection of our ongoing commitment to provide a state of the art recreational playground for all ages and resort level quality and service at every level." - Tim Sheehan, Lazydays CEO
Tampa, FL (PRWEB) January 16, 2015
Lazydays, the RV Authority and world's largest RV dealership, is now home to an expanded, upgraded 300-site RV Resort open to the general public. Embellished amenities have been designed to provide camping enjoyment for people of all ages whether they are RVing individually, with families or within large groups. Lazydays' friendly resort staff is on site 24 hours a day and is available to assist in any way, even help in planning special events, large and small. A full-time concierge is located on site to assist with travel plans and discounted local attraction tickets.
The beautiful spacious pool area features a resurfaced heated pool, hot tub, renovated pool baths and an expansive beautifully-appointed deck with all new resort-style outdoor furniture. The tennis court has been resurfaced and two half basketball courts have been added. Other recreational activity areas feature horseshoes, bean bag toss, ladderball, badminton and pickleball.
The new Children's Playground & Park features state-of-the-art playground equipment and a lovely Gazebo, perfect for small gatherings. The entire Lazydays campus is pet friendly and the resort has a dog park. Its RV-themed restaurant and pub, named Exit 10, features daily drink and dinner specials on site Tuesday through Sunday as well as poolside access throughout the week. Take-out and catering services are also available.
For the RVer who takes their work on the road, the Lazydays RV Resort Business Center offers a quiet office environment with computer and printer access. Free WIFI, complimentary morning newspaper delivery, premium coffee and cable television are also available to all RV Resort guests.
Each RV site has full 50-AMP utility hook-ups and is situated in close proximity of all the recreational facilities and a completely renovated laundry facility. Golf cart rentals and shuttle services are also available. Breakfast and lunch are included with every site Monday through Saturday.
"Since Lazydays first opened in 1976, we have been listening to our customers and their RV lifestyle needs," said Lazydays CEO Tim Sheehan. "Our RV Resort is a true reflection of our ongoing commitment to provide a state of the art recreational playground for all ages and resort level quality and service at every level."
The Lazydays RV Resort is located on-property of the world renowned 126-acre dealership site that is home to over 1,200 RVs representing all the nation's top brands and 220 state-of-the-art service bays. Also located on the Lazydays campus is an RV parts and accessories store which a broad selection of merchandise to enhance the RV experience, three themed restaurants including the exclusive Crown Club for the luxury motorhome owner. The popular complimentary on-site Lazydays Drivers Confidence Course offers seminars and classes.
Ideally located in central Florida, just outside of Tampa, the Lazydays RV Resort is easily accessible by Interstate 4 and is convenient to world-class theme parks, incredible shopping and dining destinations, museums and art galleries, aquariums and zoos and award-winning golf courses open 12 months a year. Many opportunities for outdoor activities are in close proximity, including Florida's pristine white sandy beaches, nature preserves and "the salt life", whether it be fishing, snorkeling, scuba diving, boating or surfing.
About Lazydays
Lazydays®, founded in 1976, is the world's largest RV dealership. Based on 126 acres outside Tampa, FL since 1996 and over 30 acres in Tucson, AZ since 2011, Lazydays has the largest selection of RV brands in the nation. Lazydays features nearly 300 service bays, more than 1500 new and pre-owned RVs, and 2 onsite campgrounds with over 600 RV campsites. Lazydays has built its reputation on providing an outstanding customer experience with exceptional service and product expertise, and as a place to rest and recharge with other RVers. More than a quarter million RVers and their families visit Lazydays every year, making it "their home away from home." Lazydays has been recognized as one of "Top 50 RV Dealer" by RV Business and one of Tampa Bay's "Top Work Places." The Lazydays Employee Foundation, supported by payroll contributions from over 70% of Lazydays' employees, has contributed more than one million dollars to make many historic changes for at-risk children in the Tampa Bay and Tucson communities. For most people, Lazydays isn't just the beginning of their journey; it's very much a part of their ride. To learn more, visit http://www.Lazydays.com.
###