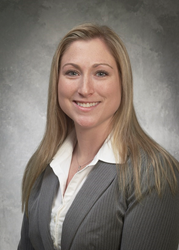 Karpchuk will provide insight on law, trends and politics for businesses that operate in Philadelphia in an upcoming 6-credit CLE program.
Philadelphia (PRWEB) January 19, 2015
Philadelphia state and local tax attorney Jennifer Weidler Karpchuk of Chamberlain Hrdlicka will provide insight on law, trends and politics for businesses that operate in Philadelphia in an upcoming 6-credit CLE program.
On Feb. 25, Karpchuk will serve as faculty for "Doing Business in Philadelphia," a program sponsored by the Pennsylvania Bar Institute. Attendees will hear from business leaders such as real estate developers and politically savvy attorneys and representatives from the City of Philadelphia about opportunities and regulations for doing business in Philadelphia. To register, visit pbi.org.
Karpchuk recently presented "Hot Topics in State and Local Tax," at the annual Philadelphia, Local and Multistate Tax Update Conference sponsored by the Pennsylvania Institute of Certified Public Accountants held Dec. 2 at the Springfield Country Club in Springfield Delaware County.
An experienced state and local tax attorney, Karpchuk represents clients in various matters related to state and local taxation. Her clients include those challenging audit determinations and real estate assessment decisions, seeking refunds from state and local governments, handling administrative appeals, litigating unresolved disputes in state and local courts, and handling post-trial appeals.
Additionally, Karpchuk assists clients in reducing interest and penalties associated with past due taxes through the use of state and local amnesty, voluntary disclosure programs and administrative appeals. Karpchuk is a frequent contributor to the firm's State and Local Tax Blog and is co-author of the Pennsylvania Tax Handbook, as well as the Pennsylvania chapter of the American Bar Association Tax Section State and Local Tax Committee Property Tax Deskbook. She lives in Conshohocken, Pennsylvania.
About Chamberlain Hrdlicka – Chamberlain Hrdlicka is a diversified business law firm with offices in Houston, Atlanta, Philadelphia, Denver and San Antonio. The firm represents both public and private companies as well as individuals and family-owned businesses across the nation. In addition to tax planning and tax controversy, the firm offers corporate, securities and finance, employment law and employee benefits, energy law, estate planning and administration, intellectual property, international and immigration law, commercial and business litigation, real estate and construction law.