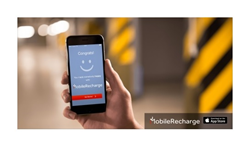 This top up system is the best online top up service, it's safe and easy. (Camella Walkin on Trustpilot.com)
Atlanta, Georgia (PRWEB) January 17, 2015
For everyone living outside their mother country, and willing to send mobile credit home easily, MobileRecharge.com launched a free app for both iOS and Android called MobileRecharge. As a result of customer feedback, the app is an affordable way to top up a mobile in another country instantly and on the go. It can be used on the way home or during a coffee break for diverse transferable amounts according to each budget.
It takes less than 1 minute to send the top up from the MobileRecharge app due to the simple online form. It is also the easiest, fastest, and most economical way to support someone abroad or send a spontaneous gift, as customers claim.
The MobileRecharge app brings the best value to the market and is reliable as certified by BBB. No hidden fees, and all communication is built to satisfy transparency between provider and customer. For example, one can top up a mobile in Mexico with 148 MXN credit and pay around $10, or a mobile in Pakistan with 500 PKR for a total of $6.55 in the checkout. As for top ups to any Cubacel mobile in Cuba, the most frequent amount sent from MobileRecharge app is 20 CUC after paying $24.37, except for the Doble Bono to Cuba promotions which doubles the amount while paying for half of it only.
MobileRecharge app is free to download on App Store and Play Store. The only condition is to register or log in if the account has already been set up on the website MobileRecharge.com. Creating an account through the app is easy. It can be done immediately after installing the app on any Android or iOS device by using the "Create Account" function on the welcome homepage of the app.
So, let's say one has just installed MobileRecharge app on their smartphone device (Android or iOS). Then they can start crediting prepaid numbers in any of the 100+ countries from one account only, and pay with any major cards or Paypal. Top up any prepaid phone in the world with MobileRecharge app.
MobileRecharge app advertises daily promotions worldwide through the dynamic notifications on the homepage of this app. Regular offers are on top ups to Cubacel, Digicel, Movistar, Claro, Tigo, Maroc Telecom, Orange, Mobifone, Viettel, Vinaphone and many other.
What customers appreciate about MobileRecharge.com on review websites like Trustpilot.com, ResellerRatings.com:

easy way to send credit
fast mobile credit transfer
high security transactions and privacy protection
responsive customer service
The need to get everything done using an app instead of a PC is easy to understand. Out of the total number of 5.10 billion mobile users across the globe, 1.75 billion are smartphone users. So, if MobileRecharge.com offers online top ups for years, it is now backed up by an extra tool: the MobileRecharge app.
The app adds in a new feature that makes a smartphone be used for what it was conceived of in the first place. If in the past, one would have found the chance to credit a prepaid number abroad only with the help of a shop-assistant or a computer, that can now be done by anyone independently. It only requires having a smartphone and the MobileRecharge app installed from App Store or Play Store for free.
Anyone can use MobileRecharge app to send a gift in less than 1 minute, or simply support someone with mobile credit. So, here is a real example of how a mobile can be smartly used with MobileRecharge app. With this app one can make an independent mobile top up abroad or credit one's personal mobile. Not only does that exclude a third person, like a shop assistant, but it also gives more control over the transactions, duration and the right time to place an order.
Advantages of using MobileRecharge app:

Lowest price for international top ups, and best deals in terms of amount sent and price ratio
Instant processing
All international credit/debit cards accepted regardless of card currency
PayPal accepted
Access from any Android or iOS device
Direct access to phone contacts in order to select the number to top up
Online access to orders and invoices
Daily Promotions
24/7 Customer Service by chat & email in English, Spanish and other languages
How to make a mobile recharge using the MobileRecharge app?
First, the app requires the customer to be logged in, next to fill in few data related to the phone number, country, operator and amount to be sent. The phone number to be recharged may be selected from the phone's Contact list. If the specific number has not been saved in the phone's agenda, the keypad can be used to enter it digit by digit. MobileRecharge.com has been set up as a service that helps people living in residential countries to transfer mobile credit from their MobileRecharge.com account to mobiles in other countries, most often in countries they immigrated to.
About MobileRecharge.com
MobileRecharge.com is an interactive website designed by KeepCalling, a global telecommunications company registered in 2002 in USA. From the get-go, MobileRecharge.com focused on creating an easy to use website and an easy to order service, succeeding to grow very fast. Presently, KeepCalling, the company behind MobileRecharge.com, provides its services to hundreds of thousands of consumers and businesses, with a focus on customer satisfaction. In 2014, Inc. 5000 listed KeepCalling as the 18th fastest growing company in the telecommunications industry in USA.
MobileRecharge.com goes on facilitating the connection between families and friends living far away, through modern telecommunication solutions.