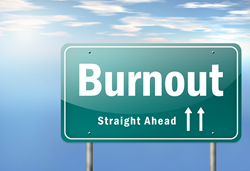 Follow these tips on how to avoid burnout to keep productivity up and stress down.
(PRWEB) January 15, 2015
Capital Solutions Bancorp, a working capital funding firm, has just released a blog titled "4 New Tips to Avoid Burnout (and 1 you've heard before but refuse to actually DO)." This blog lists new ways that business owners can help avoid burnout by asking the right questions and making changes in their personal and professional lives. The blog can be seen here.
4 New Tips to Avoid Burnout
The tips in this article are intended to help business owners avoid the exhaustion that comes with running a business by looking deeper into the problems that cause burnout. The article suggests that business owners:
1. Do a Gut Check -- Burnout can sometimes comes from low-grade anxiety associated with going against core values and beliefs in a business setting. If the business or its practices run in contrast to the owner's personal or professional ethics, to avoid burnout, changes need to be made to bring the business more in line with the standards of the business owner.
2. Get rid of negative people -- Employees who are constantly complaining and bringing negative energy to the office can drain the life out of every other person they are around. Inspire employees to be more positive or send them out the door before they do any more damage.
3. Invest Internally -- Whatever helps the business owner forget about work will also help them focus on work. Whether it be a vacation, a motorcycle or a yoga class -- investing in the business owner is always an investment in the business.
4. Delegate -- Every great leader needs a support team. No one can handle every task. Hire the right people, then train them and trust them to do their jobs.
5. Eat, Sleep, Exercise -- It's the age-old wisdom nobody wants to believe -- but it is so true. Take care of the body that takes care of the mind that runs the business. It's tempting to work all hours and survive on coffee and junk food to get everything done, but in the long term, it's just a productivity killer.
About Capital Solutions Bancorp
Capital Solutions Bancorp provides working capital funding to businesses. For more information, call Capital Solutions Bancorp today at 800-499-6179 or visit http://www.capitalsolutionsbancorp.com.