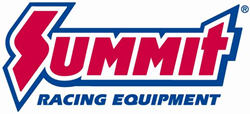 Tallmadge, OH (PRWEB) January 16, 2015
The National Auto Sport Association's (NASA) American Iron Racing Series may be the ultimate Ford Mustang vs. Chevy Camaro battleground. Summit Racing has together these American Iron Mustang Engine Combos so enthusiasts can build a duplicate of a 363 cubic inch small block Ford built for American Iron competition.
With Summit Racing's help, American Iron racer and crew chief Marc Sorger built a 363 cubic inch small block Ford for his 2008 Mustang that sends 482 horsepower to the rear wheels.
American Iron Mustang Long Block Combo
Marc Sorger based his engine build on Ford Racing's stout Boss 363 C.I.D. crate short block engine. The fully assembled short block features a Boss 302 four-bolt main block, SCAT forged steel crank and forged I-beam connecting rods, and Mahle forged pistons. Marc installed a stout COMP Cams solid roller camshaft and valvetrain parts, and topped the engine with Edelbrock Victor Jr. aluminum heads. Oiling is courtesy of Canton Racing and Melling.
American Iron Mustang Induction System Combo
The 363's induction system is stone cold simple—a 750 cfm Holley double pumper on an Edelbrock Victor Jr. single plane intake manifold. A Summit Racing dual feed fuel line delivers the gas, and Fel-Pro gaskets and Edelbrock manifold bolts seal things up.
American Iron Mustang Engine Completer Combo
This combo has many of the parts needed to button up the 363 small block—MSD distributor, Ford Racing valve covers, Fel-Pro, Ford Racing, and Canton gaskets, and various fasteners from ARP, Canton, and Moroso.
See how the American Iron Mustang 363 went together at Summit Racing's OnAllCylinders blog.
SEE THE AMERICAN IRON MUSTANG COMBOS AT SUMMIT RACING
Summit Racing Equipment
http://www.SummitRacing.com
1-800-230-3030