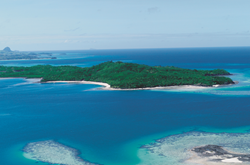 Yasawa Islands, Fiji (PRWEB) January 19, 2015
Turtle Island Resort Fiji, a privately owned island and an exquisite South Pacific jewel, is home to only 14 couples at a time. The breathtaking panoramas of the renowned Blue Lagoon and neighboring Yasawa Islands can be seen from the spacious Fijian bures. Gentle winds carry the scent of tropical flowers and the warm, azure waters of the private beaches beckon guests to relax. The cuisine, prepared with fresh seafood from local waters and fruits and vegetables grown on the island, is a culinary delight.
Spend a 7 night, All Inclusive, Spring Vacation on Turtle Island during February 21 – June 15, 2015 and the resort will cover 2 round trip economy international airfares from LAX*
For those traveling outside of the USA, rather than airfares, they're offering a $2500 credit towards a 7 night stay on Turtle Island during February 21 – June 15, 2015.
Bonus! Take advantage of the above deal and choose ONE of the following:
· Complimentary Seaplane transfers - with an additional 15 minutes (on arrival or departure) of scenic flight-seeing over the Yasawa Chain
· $1,000 SPA Voucher
· Complimentary Padi Dive Course - learn to Scuba Dive for Free
· Complimentary Private Wedding and/or VOW renewal
Travel Dates: February 21 - June 15, 2015
Travel must be complete: by June 15, 2015
Book by: February 15, 2015
Other Terms and Conditions Apply, visit turtlefiji.com for details.
http://www.turtlefiji.com/rates-and-special-offers
Subject to availability, receive up to $2,500USD airfare credit per couple, minimum 7 night stay on Turtle Island Fiji required, new bookings only, not to be combined with any other special or previous offer, strict stay dates apply: Feb 21 – Jun 15, 2015. All travel must be complete by 15 Jun, 2015. Other terms and conditions apply.
Media Contact:
Jennifer Forte Cuomo
Principal
JFC PR
631-265-0584 (office)
917-538-1225 (cell)
jennifer(at)jfcpr(dot)com