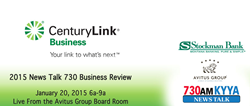 Industry is what keeps our nation and Montana moving forward. Avitus Group is proud to host community forums like this live radio show that help promote business and keep the economy moving forward. -Avitus Group Public Relations Manager, Dianne Parker
Billings, Montana (PRWEB) January 15, 2015
"2014 was a big year in Yellowstone County and in Montana when it comes to economic news. From the big hail storm in May and its economic impact to the recent fluctuations in the oil industry, we'll hear from many of the state's top players on how different events affected their specific industries and what they forecast moving forward," says News Talk 730 AM Host Scott Fredricks.
Fredricks is set to co-host the live radio show with Avitus Group CFO Steve Bentley January 20th from 6:00 a.m. to 9:00 a.m. from the Avitus Group boardroom. Expert guests for the live radio show include Billings Chamber of Commerce's Director of Business Advocacy & Government Affairs, Bruce MacIntyre, Big Sky Economic Development Authority's Director, Steve Arveschoug, Big Sky Economic Development's Director of Business Outreach, Recruitment & Marketing, Jeremy Vannatta, Billings Kubota's President of Sales, Bruce Rush, Corss Petroleum's Owner, Gregg Cross, Century Link's Market Development Manager, Michelle Jackson, Stockman Bank's VP and downtown Branch Manager, Jeremy Morgrett, Neecee's Owner, Denice Johnson, Underriner Motor's Honda General Manager, Reid Garrett, Montana Congressman Ryan Zinke, City of Billings Mayor Tom Hanel and American Steel's President, Paul Neutgens.
"Industry is what keeps our nation and Montana moving forward. Avitus Group is proud to host community forums like this live radio show that help promote business and keep the economy moving forward. Avitus Group specializes in helping businesses grow by streamlining their business process, which helps the economy," says Avitus Group Public Relations Manager, Dianne Parker.
Avitus Group is a worldwide company, based out of Billings, Montana. Avitus Group helps other companies with administrative hassles. When businesses use Avitus Group, all of the necessary, yet burdensome functions of the business become Avitus Group's responsibility, so the business can focus on what they do best, grow and increase profits. Avitus Group serves clients nationwide through 10 regional office locations from California to Florida. The company also serves international clients through partner locations in Europe, Canada, China, England, India, Japan and Singapore.