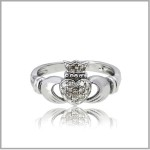 (PRWEB) January 15, 2015
From its lush green hillsides to its lively music and spirit, it's easy to fall in love with Ireland. At The Irish Jewelry Company, they bring the rich history and timeless beauty of this land to life through traditional pieces that have been updated for modern tastes. This Valentine's Day, they're inviting couples near and far to discover the magic of the Claddagh ring's past while creating their own love story for the future.
As the story goes, a long time ago in the fishing village of Claddagh there was a man who fell upon hard times. Separated from his true love and sold into slavery, he could only hope she would wait for him to return one day. While away, he secretly created a ring imbued with all the qualities he held dear in his sweetheart--a heart for love, a crown for loyalty, and hands for friendship. After fourteen years he was finally freed. When he returned home he was overjoyed to find her waiting, and sealed their love with the ring he had fashioned.
When given to one's special someone, the Claddagh ring is a pledge of enduring friendship, love, and loyalty forever. The Irish Jewelry Company has designed a diverse collection of elegant rings that are just waiting to become a part of someone's epic story. The classic Claddagh is stunning in its simplicity, while more stylized renditions and those embellished with sparkling gems are a beautiful way to say "I love you."
Jennifer Derrig founded The Irish Jewelry Company in 2006, out of a desire to reconnect with her heritage and provide others around the world with access to the timeless beauty of Irish and Celtic jewelry. Since graduating from the prestigious Fashion Institute of Technology, Derrig has spent over 20 years in the pursuit of fine jewelry design. Her love for the land, people, and culture of Ireland shines through every piece, carrying on their traditions in beautiful new forms.