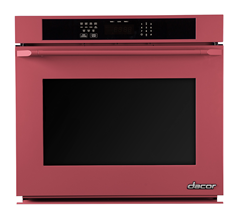 DacorMatch continues to be an invaluable tool in the design and implementation of any modern luxury kitchen. - Dacor CEO Chuck Huebner
Los Angeles, CA (PRWEB) January 15, 2015
Dacor®, the Southern California based manufacturer of ultra-premium kitchen appliances, announced today the addition of the 2015 Color of the Year, PANTONE® 18-1438 Marsala, to the DacorMatch™ Color System color options.
"We've talked to the design community and found that they want to personalize kitchens with stylish appliances without giving up quality or performance," said CEO Chuck Huebner. "DacorMatch continues to be an invaluable tool in the design and implementation of any modern luxury kitchen."
The proprietary DacorMatch Color System allows you to personalize an appliance through the choice of any color imaginable. Simply select one of the colors from the Dacor Palette or send in a color sample to be replicated and your high-end oven or range will be manufactured to order. For additional personalization, you can call out what components to be finished, such as door, handle, sides and bezel.
"Marsala is a rich, warm accent color for any kitchen," said Dacor President Steve Joseph. "The wine infused earthy hue is luxurious, appetizing and pleasing to the eye."
Over the last 15 years, Pantone's Color of the Year has been carefully chosen to reflect current trends in art, movies, fashion and design. Leatrice Eiseman, executive director of the Pantone Color Institute® stated in a December 2014 release, "Marsala enriches our mind, body and soul, exuding confidence and stability."
# # #
Media Notes:
Additional product information
DacorMatch Color System offers total personalization based on any color imaginable. Additionally, the Dacor design team has hand-selected 10 vibrant color options for its wall ovens and ranges. These colors include Tomato Red, Emerald, Stretch Limo, Orange Popsicle, Princess Blue, Blazing Yellow, High-Rise Grey, Sangria, Bright White and Marsala – the 2015 Color of the Year, according to Pantone.
About Dacor
Celebrating its 50th anniversary in 2015, Dacor is a manufacturer of ultra-premium kitchen appliances. Designed and built in California, Dacor's cooking appliances integrate function and technology to create high-performing, intuitive products that reflect the lifestyle and needs of the passionate cook. Since 1965, Dacor has been responsible for many of the innovations that have improved the way people cook in the modern kitchen. Dacor is family-owned and embraces the legacy, heritage and expertise of a third generation to lead the company into a new age of cooking innovation. Dacor is also the first and only ultra-premium appliance brand to be tested and recommended by the Master Chefs of Le Cordon Bleu. Le Cordon Bleu is considered the world's most respected culinary arts and hospitality educator.
For more information about Dacor and its products, visit dacor.com.
About Pantone and the Pantone Color Institute
Pantone LLC, a wholly owned subsidiary of X-Rite, Incorporated, is the global color authority and provider of professional color standards for the design industries. Always a source for color inspiration, Pantone also offers designer-inspired products and services for consumers. More information is available at http://www.pantone.com.