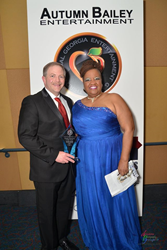 "I am thankful for the exposure that our manufacturing community is receiving as a result of this award," said Moss.
Lawrenceville, Georgia (PRWEB) January 16, 2015
Jason Moss, founder and CEO of the Georgia Manufacturing Alliance (GMA) and a long-time leader in the manufacturing community was presented the prestigious "Georgia Community Leadership Award" at the Georgia Entertainment Gala was held at the World Congress Center on January 10th. The award brings two leading industries together in Georgia – Georgia Entertainment and Georgia Manufacturing based on a common goal – to grow jobs here in Georgia.
"Keeping business in Georgia and providing rapid response to the demanding entertainment community makes for a win-win relationship between the manufacturing and entertainment industry in Georgia. GMA and our members are excited to play a role in this growing industry," said Moss.
The black tie event brought together 2,000-plus of the most prestigious and celebrated leaders of the Georgia entertainment industry, media and business community. The goal of the third annual event was to honor entertainment and community icons. These leaders work year-round to help increase Georgia's participation in the music, movie and television industry, which grows jobs and the economy.
Since 2008 GMA has been connecting manufacturers to a wide variety of industries including entertainment. Many of the 440,000 people employed in Georgia manufacturing directly support entertainment. Members provide a multitude of items like animatronics, behind the scenes special effects as well as on camera apparel and props. The networking events and tours GMA hosts help bring the community together creating quality business connections.
Moss was among a list of influencers in our community nominated for awards and honored at the event from Judge Glenda Hatchett to producer/rapper/actor Ludacris.
"The community leadership award was presented to Jason Moss because of his passion, his drive and his heart to really engage our communities and help people in Georgia. His commitment to connecting Georgia manufacturing with the entertainment industry and other industries in our state is why he was first nominated and later chosen by our awards host committee for this honor," said Autumn Bailey, the Georgia Entertainment Gala Founder and Presenter. Mrs. Bailey also owns Autumn Bailey Entertainment.
"I am honored to receive this award and I am thankful for all of the people who played a part in the nomination and selection process. More importantly, I am thankful for the exposure that our manufacturing community is receiving as a result of this award," said Moss.
GMA has been creating profitable business connections for its members through direct referrals and events hosted year-round since 2008. Many of the manufacturers who are members of GMA currently serve the entertainment industry by providing products and services that range from cosmetics, to camera equipment, to costumes, to performance stages.
"Developing a stronger bond between our entertainment and manufacturing community will benefit both groups. We are excited to see what 2015 has in store" said Moss