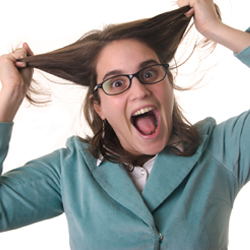 (PRWEB) January 21, 2015
SkillPath Seminars, the nation's leader in business skills training since 1989, is excited to announce a productivity-boosting training opportunity now taking enrollments. Dealing Effectively With Unacceptable Employee Behavior is a unique public seminar developed to give expert advice on the sticky issue of disciplining workers whose performance just doesn't measure up. Class participants learn the communication skills that are critical to maintaining an open dialog with a problem worker. Just as important, it also teaches how to unlearn some common misconceptions that can sabotage established discipline and performance plans. Then, as a last resort, the seminar provides a step-by-step program that breaks down every stage of the discipline process, from recognizing the problem and assessing its severity … to intervention strategies … to formal termination procedures.
Dealing Effectively With Unacceptable Employee Behavior is now coming to the local area. Seminar attendees will enjoy the chance to get away from the office for a day to learn from a professional trainer with a track record of expertise, an expert who has trained thousands of managers, supervisors and human resources professionals in the finer points of correcting performance shortfalls and redirecting problem workers.
It's a rare opportunity for leaders of all levels to expand their skill set with the practical tips, techniques and solutions they need for successful performance management without incurring the hard knocks that come with trial-and-error learning. In addition to being chock-full of practical, real-world information, SkillPath seminars are also networking gold mines, where professionals interact with like-minded peers in their area to share experiences and gain valuable industry knowledge.
Who will benefit from this course? Managers, supervisors or team leaders who want to learn proven ways to improve performance without arousing hostility, damaging relationships or incurring legal hassles. Consider this glowing testimonial from a client who attended Dealing Effectively With Unacceptable Employee Behavior: "An excellent, concise presentation of key elements for better coaching and conferencing techniques in problem-solving issues."
Here are just a few highlights from this comprehensive one-day seminar: How to recognize the 15 warning signs that a problem is brewing … How to open the dialog with a difficult employee and discuss problems without causing defensive reactions … How to act—not react—in a negative situation … How to offer constructive feedback … How to set measurable performance standards, communicate them to all employees and measure … How to determine when it's time to transfer, reposition or terminate a problem employee … How to protect individuals and the organization from wrongful termination claims and other legal tangles … and so much more!
Millions of satisfied customers have turned to SkillPath for business training. Another recent attendee of Dealing Effectively With Unacceptable Employee Behavior had this to say: "A direct hit! What I learned today will allow me to assess and resolve all of my supervisory problems. Thank you."
The cost of this popular course is $199. Enrollment can be done by phone, e-mail or on-line. To sign up for classes or for more information on Dealing Effectively With Unacceptable Employee Behavior, see http://www.skillpath.com. SkillPath also offers local seminar updates and special e-mail only discounts at http://www.skillpath.com/?emr.
About SkillPath Seminars:
SkillPath provides practical, convenient training opportunities for businesspeople who are ready to re-tool and re-charge their professional careers. SkillPath's unique brand of training enhances skills, saves time and money and contributes to career and organizational success. They accomplish all this through public seminars, customized on-site coursework and take-away training resources that keep careers on the grow. SkillPath has trained 10+ million people since 1989—at Fortune 500 corporations, small businesses, government agencies and not-for-profit organizations—and they promise a great learning experience at each SkillPath seminar. Their 100% money-back guarantee is proof of their commitment to everyone's success.