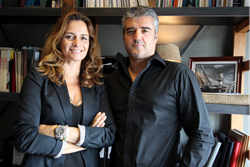 Barcelona/Costa Brava, Spain (PRWEB) January 19, 2015
The Haute Living Real Estate Network (HLRN) of Hauteresidence.com is proud to recognize Pere Barcons and Debora Escoda asa prominent real estate professionals and the network's newest partners. HLRN unites a distinguished collective of leading real estate agents and brokers, highlighting the most extravagant properties in leading markets around the globe for affluent buyers, sellers and real estate enthusiasts.
About Haute Living Real Estate Network (HLRN):
Haute Living Real Estate Network (HLRN) of HauteResidence.com offers readers the most prominent directory of experienced realtors, brokers and luxury listings, and HLRN has grown to be the number one source for real estate news, residential developments, celebrity real estate news and more. Seeking an experienced interior designer? Hauteresidence.com is also home to Haute Design Network (HDN), a collective of celebrated interior designers that will help you decorate your new home or stage an active listing. Access all of this information and more by visiting: http://www.hauteresidence.com.
About Pere Barcons & Debora Escoda:
GTS BARCELONA REAL ESTATE is a company oriented to provide support to vendors that decide to market their iconic, familiar or real estate products and buyers interested in these products as home, sporadic residence or as investment. It is committed to excellent services based on professionalism, focused on details, commitment, deep knowledge of their buyer and seller customers, and to ensuring honest and fair agreements that satisfy the parties. The company boasts a large, exclusive, and unique property stock, direct from the owners, which are not explicitly on the market but are managed with discretion and professionalism. Its properties and clients include iconic and one-of-a-kind properties that are beyond good investments.
WHAT THEY OFFER
Properties : Large apartments, design apartments, serviced apartments, private security apartments located in Turó Park and around the Paseo de Gracia; mansions, palaces and stylish homes in Barcelona; cottages, stone and beach houses in the heart of the Costa Brava and the Empordà; farms; and exclusive homes in Cerdanya and Andorra.
Investments: Pàrquings Car parking, buildings, commercial buildings, commercial spaces, industrial products and business investments.
They consider their customers, buyers and sellers, one of their greatest assets and as such, where they demand it, they develop relationships that go beyond the transaction on real estate property and they extend them to successfully arise contacts aimed to support economic and social development.
SERVICES
Their services cover comprehensively all aspects related to the purchase or sale of properties and investment management:
Guidance on the pricing of sale Negotiation between the parties Spanish residence management Fiscal, legal and financial support Refurbishment management Product "Search on Demand" Development of investment plan based on profiles and expected returns Daily life support after the transaction: furniture, appliances, domestic service, banks, schools, shops, vehicles...
To learn more, visit Pere Barcons & Debora Escoda's Haute Residence profile.