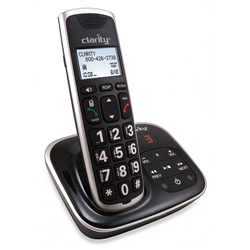 "I can finally hear what my grandchildren are saying to me over the phone. It's life-changing."
(PRWEB) January 16, 2015
"Clarity" was featured on NewsWatch as part of its monthly Tech Report, which features the latest and coolest technology products available to consumers. Mallory Sofastaii, a technology expert and reporter for NewsWatch, conducted the product review and shared with viewers how the device enhances phone calls for people with difficulties hearing.
Clarity has developed and released the BT914, a phone with Bluetooth capabilities that amplifies sound, not just making it louder but actually making the sound clearer.
The BT914 can be linked to a cellphone or a landline as long as they have Bluetooth settings. Users of the phone can pair up two cell phones at one times. They can even set different ring tones on the BT914 so they can tell which phone the call is coming in on. Additional features include the ability to download up to 1000 contacts from a cell phone via Bluetooth, a digital answering machine so voicemails are clearer, easy to read Caller-ID display and a large easy to read keypad just in case the eyes aren't what they used to be either. And if a user wants more than one handset, they can buy up to 4 additional handsets separately for clearer calling throughout the entire house.
The BT914 goes for $119.95 at Harris Communication. So fix the lack of clarity and pick one up today.
To learn more, visit http://www.harriscomm.com/bt914 today.
About NewsWatch
NewsWatch is a weekly 30-minute consumer oriented television show that airs on the History Channel, FYI Network, and ION Network. NewsWatch regularly features top technology products and services, mobile applications for iOS, Android, and Windows devices, unique and beautiful travel destinations around the world, health and medical tips, and entertainment interviews on the show. NewsWatch airs on the History Channel at 6:00 – 6:30 AM ET/PT and on the FYI Network from 7:00 – 7:30 AM ET.
NewsWatch is located in the greater Washington, DC area and has been on air for over 25 years. For more information or to watch the most recent episode, visit http://newswatchtv.com/tech-report.html.