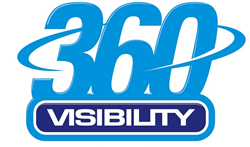 Toronto, ON (PRWEB) January 16, 2015
It is with 360 Visibility's IT Health Check, a popular service that furnishes small and medium-sized businesses with an easy-to-digest health report of their current IT infrastructure status, including notes on its security, inventory and capacity stats.
The service — a boon to any SME without the ability to generate its own such account — has been extended beyond 360's install base, and is now available to everyone.
Among other things, 360's IT Health Check isolates areas of risk and inefficiency and provides the means for companies to benchmark themselves against industry best practices.
With reports of malicious attacks on the rise, the call to ensure that sure your digital environment is fully protected — and to see a tangible report confirming that status — is more important than ever. After all, from irritating to downright destructive, the lurking threats to a company's health and ongoing ability to continue doing productive business are legion today. Hardware can fail, hard drives can become overloaded, viruses can spread on machines without the latest updates, and adware can induce a cascade of unwanted popups on machines that haven't had patches installed.
The report that results from 360's IT Health Check includes recommendations for improvements to those areas identified as problematic.
Interested organizations can find out more about 360 Visibility's IT Health Check by contacting our IT Infrastructure Expert, Sam Esposito, at sesposito(at)360visibility(dot)com.
About 360 Visibility
360 Visibility is a business solutions company that's dedicated to enabling enterprise participants make swift, well-informed and lucrative business decisions. The Toronto-based organization provides clients with enterprise software, access to cloud technology, and property management and IT infrastructure services aimed at facilitating a course of effective, profitable, pitfall-free corporate management. Its software repertoire features Microsoft Dynamics NAV, Microsoft Dynamics GP, Microsoft Dynamics CRM, Microsoft Office 365 and Windows Azure. 360 has also developed proprietary property management software, 360 Property Manager, that's powered by Microsoft Dynamics NAV.
For corporate inquires, contact:
Julissa Fonseca
360 Visibility
Phone: 905.907-3614
Fax: 905.907.3601
jfonseca(at)360visibility(dot)com
http://www.360visibility.com