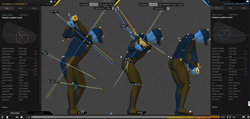 Port Chester, NY (PRWEB) January 15, 2015
CLAY Health Club + Spa is unveiling the world's most advanced custom golf club fitting technology on Jan. 15. CLAY, a new luxury health club, has just upped its golf game by developing its full-swing and body tracking system with the addition of more exotic golf shafts, sensor-fitting tools, and the latest club heads from Nike, Cobra, and TaylorMade. CLAY is the world's only health club to house this comprehensive sports lab, which now offers the most progressive golf club fitting technology currently available.
GEARS is the full-swing club and body tracking system at CLAY used by PGA professionals, club fitters, and club manufacturers to measure and analyze every nuance of a swing – from address to follow-through. Players wear a motion-capture suit, featuring more than 30 sensors placed on the body and club, and eight ultra-HD cameras capture over 600 images per hit to accurately assess the biomechanics of each swing. CLAY is home to one of only 20 GEARS systems around the globe and was the third to have one installed on the East Coast.
"We can now custom fit golf clubs like no one else on the planet," said Michael Manavian, CLAY's director of performance and golf professional. "Through optical tracking, we can measure everything the club is doing, including the club head angle – down to hundredths of a degree."
Known in the industry as the "bodybuilding golf professionals," Manavian has dedicated his life to systematically improving athletic performance at all levels. His expertise in utilizing cutting edge technology, including GEARS, to assess the bio-mechanics of a golf swing, differentiates him from any other professional in the field. Manavian is an authorized instructor in the Stack and Tilt® Network and is the author of Atomic Golf.
In addition to using its world-class swing analysis technology to optimize a player's custom fit, CLAY is the only facility in the world to use GEARS to measure other physical neuromuscular systems, Manavian said. The sports performance expert explains that GEARS is also used to analyze and improve any athlete and his or her sport – like baseball, tennis, and rowing.
"It's like an MRI for your game," Manavian said. "I can then interpret your results and we can see your progress over time and measure your improvements. We can make measureable changes here that can be demonstrated and repeated, not just base results on 'what feels better'."
CLAY, located at 11 Riverdale Avenue in Port Chester, opened in September. For more information about club membership and CLAY's golf performance services, visit http://www.insideclay.com or call 914.937.5000.
About CLAY Health Club + Spa:
CLAY Health Club + Spa is a full-service, boutique health club that integrates private training, group fitness classes, spa and nutritional services. Far above and beyond your average gym, CLAY has a fireside lounge, organic cafe, rooftop sun deck, private saunas as well as a Spin and Pilates studio. The capped membership ensures small classes and never a wait for equipment.