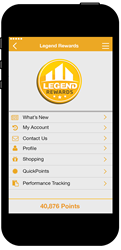 The app makes sales claims quicker and easier, which will increase adoption rate and engagement levels. - Mark Herbert President, ISI Group
Atlanta, Georgia (PRWEB) January 16, 2015
Incentive Solutions is beginning 2015 with new developments in mobile incentive technology. With the release of an incentive program mobile app, the company continues promoting the instant access and sense of reward that engages users and increases productivity. With an app that is quick and intuitive, sales channel incentives and customer loyalty platforms become part of participants' everyday mobile use.
A 2013 Forbes article predicted that rising mobile usage would also lead to blurred lines between business and personal time. Incentive Solutions online rewards technology is designed to adapt in this fluid environment where the definitions between free time and work are less distinct. Today it's easy for employees to spend out-of-office time on their phones contacting clients, quickly correcting mistakes before they become problems, and resolving issues.
Incentive Solutions reward programs fit effortlessly into the new, mobile-accessorized workplace. The app's multiple features turn incentive rewards into an experience both valuable and portable. Mark Herbert, President of the company, says, "The app makes sales claims quicker and easier, which will increase adoption rates and engagement levels." The concepts of immediate access and instant reward come together in the app, promoting greater participation. A sales team, for instance, can become more diligent in keeping claims and goals up to date wherever they are—at work, in the field, or at home. The app was also built to seamlessly integrate with smartphone technology. Participants can use their phone scanner to capture a product barcode, check its availability in the shopping catalog, and add that exact item to a personal wish-list or redeem their points in-store. With their rewards platform instantly accessible, they can use their points for in-store purchases.
Other standard features on the app include:

Enrollment: new users can register onto the incentive program directly through their mobile device.
Push Notification: clients can keep track of goals, new promotions, and acquired points.
Saved Logins: avoid logging into the system with each use.
Profile: users can view and update their personal information.
Contact Us: instant technical support.
Quick Points: users can access to On-the-Spot awards , which they can input instantly.
Performance Tracking: keeps participants updated on their progress and achievements.
Shopping: provides a full catalog of all items and events users can buy with their redeemed points. These include not only products, but sports/concert tickets, travel opportunities, and more.
The use of mobile devices and apps in daily routine is now standard for the common person. Many people manage their multitude of relationships and activities by checking apps and social media in the morning, before bed, during lunch, or at the gym, etc. In 2014, Nielsen found that the average person spends over 38 hours per month on a smartphone. The Incentive Solutions app uses the speed of mobile culture to its advantage. The company's Chief Executive Officer, Steve Damerow, says, "Our app takes the uprising mobile usage trends and makes incentive programs two to three times more effective."
About Incentive Solutions
Incentive Solutions, Inc. was founded in 1994 and is based in Atlanta, GA. Incentive Solutions is part of The ISI Group (comprised of Incentive Solutions, Loyaltyworks, and Travel Solutions) and offers incentive program technology to help our clients increase sales channel distribution, foster customer loyalty, and instate employee reward programs. From its first years, Incentive Solutions has been a pioneer in the incentive industry by applying emerging online technologies to debit and pre-paid card programs, online point (merchandise) programs, reward program management, and turnkey incentive program modules .