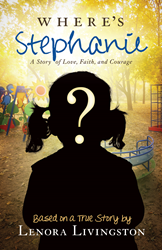 I want readers to see how miracles can grow out of what might appear to be an impossible situation.
Charleston, SC (PRWEB) January 16, 2015
CrossBooks is pleased to announce the nationwide release of Lenora Livingston's debut novel, Where's Stephanie? A Story of Love, Faith, and Courage, that shines a light on one woman's deeply personal quest to stop an abortion and to know the child whose life is spared. The book's theme is bold and clear: As long as there is life, there is hope.
Where's Stephanie? introduces Anna Weber whose son, Ian, is already engaged to another woman when he learns that a former girlfriend is pregnant with his child. In a dramatic act, Anna prevents her grandchild from being aborted but still has to weather the emotions of not being in the baby girl's life when the mother puts little Stephanie up for adoption.
Allowed to write Stephanie a letter for her Social Services file that does not share identifiable information, Anna nevertheless places clues in her letter, hoping her grandchild will someday seek her birth family. As the story grows and the lives of grandmother and granddaughter draw remarkable parallels from a distance, Livingston's writing captures the real emotions of the situation, from the birth family's sense of loss to the adoptive family's newfound joy.
"As the last chapter unfolded, I began telling others about the story, and there was always an emotional response," says Livingston, a freelance writer who holds a Master of Arts in Teaching degree from the University of South Carolina. "My hope is that the beauty of the story would counteract some of the negativity going on in the world today. I want readers to see how miracles can grow out of what might appear to be an impossible situation."
Paul Mikos, publisher at CrossBooks for LifeWay Christian Resources, adds, "Lenora's book is sure to inspire individuals and organizations who support and want to share this special prolife message. It shares timeless truth and really is a unique story of love, faith, and courage."
Where's Stephanie? is available online through CrossBooks on LifeWay.com.
An imprint of B&H Publishing Group, CrossBooks offers a unique blend of traditional and self publishing. It serves a variety of Christian writers, from established authors to Christian leaders and first-time authors. As a ministry of LifeWay Christian Resources, CrossBooks is committed to unwavering principles of excellence and Christian faith. For additional information, please visit http://www.crossbooks.com