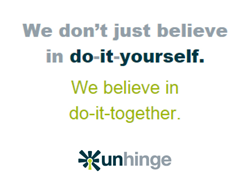 Here at Unhinge you're only a few clicks away from turning your personal space into something that is uniquely yours.
San Diego, CA (PRWEB) January 17, 2015
Unhinge Hardware is proud to announce the launch of their new e-commerce website, UnhingeHardware.com. As the "next big thing" in the online home decor community, Unhinge will soon be the go-to for anyone designing, remodeling, or just looking for ideas on sprucing up their home. The site hosts a complete collection of stylish door and bathroom hardware for purchase, as well as a hub for home inspiration ideas and tips for designing a budget-friendly space.
After realizing that most home furnishing places were overcharging for basic home products, the founders of Unhinge were inspired to create an alternative. UnhingeHardware.com was built to provide the everyday consumer with a wide selection of high-quality products that offer personal style without the high price tags.
With the launch of this online store, the days of overspending on hardware are over - shoppers can now easily browse and select from a variety of door and bathroom hardware styles and types and have them delivered directly to their doorstep.
"Here at Unhinge you're only a few clicks away from turning your personal space into something that is uniquely yours," says Katie Tran, Operations Manager of UnhingeHardware.com. "We strive on offering stylish door and bath hardware at an unbeatable price while still delivering impeccable service and support."
Hardware that fits your personal style, without the high price tag
With any remodel or decor project, staying within budget is never an easy feat. While most home stores charge high prices for stylish door and bathroom hardware, Unhinge provides shoppers with a huge variety of products that will give you the look and feel you desire at a price that fits your budget. With such a large selection to choose from, there's something to fit everyone's personal style - from classic to modern to deco door and bathroom hardware designs - you'll find a collection that fits perfectly into your home.
So much more than a hardware store
Offering stylish hardware is just the start of what we do. Unhinge is your creative resource for home ideas, decor inspiration, buying guides and so much more! We believe that everyone should have a home that reflects their personal style, and we're here to help you make that happen. When browsing our website, you'll find the goods - and the ideas - to create a space that's uniquely yours.