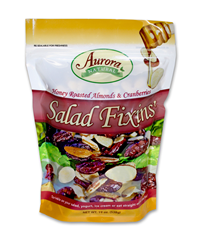 We care deeply about helping consumers live a healthier lifestyle and are happy to provide beneficial options.
Orange, CT (PRWEB) January 16, 2015
Aurora starts off the new year on another healthy note by introducing its latest variety of salad topping, Honey Roasted Salad Fixins', a perfect way to keep your healthful resolutions and your greens from getting boring.
This tasty and nutritious flavor combination includes honey roasted sliced almonds and dried cranberries. Add nutrients, texture and crunch to your salads, veggies or eat straight out of the bag. Made with the highest quality, 100% all natural ingredients, roasted on the premises and packed fresh.
Benefits of nuts and dried fruits in the diet include added protein, fiber, vitamins and energy. "Offering healthy options are key to providing good nutrition and supporting healthier eating habits," said Stephanie Blackwell founder of Aurora Products. "We care deeply in helping consumers live a healthier lifestyle and are happy to provide beneficial options."
Aurora Natural's Salad Fixins' can be purchased from their website and shipped direct to the consumer. Aurora Natural branded snacks can also be found at retailers such as Stop & Shop, Giant, Shaw's, Shop Rite, Whole Foods, A&P, Big Y, Acme, Pathmark and quality Independent Stores. The vast array of their product lines can be found in the Produce or All Natural sections within the stores.
About Aurora Products, Inc.
Aurora Products is located in Orange, Connecticut and packages only the highest quality all natural and organic dried fruits, nuts, granolas and trail mixes. The company was established in 1998 by Stephanie Blackwell. In 2005, her son Matthew Blackwell joined the company and together they maintain the tradition and commitment of a family owned and operated company. For more information, contact Kirsten at 203 375 9956 or e-mail us at ANatural(at)auroraproduct(dot)com.