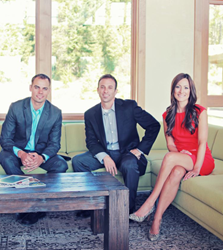 While attracted to their global reach and exclusive media platforms, we also enjoy their commitment to broker care and the authentic sense of community we feel with the office.
Kirkland, Washington (PRWEB) January 15, 2015
Realogics Sotheby's International Realty (RSIR), the Pacific Northwest's largest affiliate for the fast-growing real estate network announced today the appointment of The Hopper Team to their Kirkland branch office. Drawing upon more than a decade of experience in all market conditions, Principal Brian Hopper formed a team with wife Nicole Hopper and his associate Wade Poulin in response to market demands in 2008. Today the trio is uniquely poised to expand their market coverage throughout the greater Eastside, within South Sound communities and beyond.
"We are delighted to welcome The Hopper Team to our brokerage platform," says Dean Jones, President & CEO of Realogics Sotheby's International Realty. "We are very impressed by their comprehensive client services and extraordinary marketing capabilities. The Hopper Team will thrive with enhanced listing exposure and access to our global network. Meanwhile their proven team approach will allow them to pursue a broader service area."
The Hopper Team is a market leader leveraging online video and social media when positioning and promoting their listings. They honed their dynamic approach during a difficult time in the industry when it wasn't enough to just take photos, list a property and hope for a buyer. Instead they consolidated their expertise, which includes property presentation and staging services, the formation of unique listing videos and the deployment of social media marketing.
"We are thrilled to be invited to Realogics Sotheby's International Realty," says Brian Hopper. "While attracted to their global reach and exclusive media platforms, we also enjoy their commitment to broker care and the authentic sense of community we feel with the office. It's a great feeling to be surrounded by excellence in industry and it allows our team to focus on serving our clients out in the marketplace."
In addition to representing sellers of all property types and price points, The Hopper Team offers an aggressive property search program for homebuyers – a winning approach within a highly competitive marketplace. Whether buying or selling, client testimonials are consistent with accolades for The Hopper Team's match-ready spirit.
Prior to his career in real estate, Brian Hopper was a professional freestyle skier and remains a winter sports product endorsement representative and an ambassador for Crystal Mountain Ski Resort. Likewise Wade "Rocky" Poulin was a nationally-ranked tennis player during his college years at Pacific Lutheran University (his nickname Rocky was inspired by the movie for his "never give up" attitude in both sports and business). Nicole Hopper complements the team with her natural design sensibilities and thoughtfulness as a humanitarian and woman's ministry pastor with her local church. Having previously represented Costco Wholesale as an executive in their customer service department, she takes client care and product positioning to a new level in real estate.
"While Brian and Wade are on the front lines I'm behind the scenes making certain our listings are presented in the best possible light," says Nicole Hopper. "We work with our clients to carefully edit their interiors and often coordinate various improvements and staging to optimize its opportunity to attract a new owner. It's all about the "wow factor", which I think plays out well across our videos, social media platforms and other forms of advertising – that's our signature."
To be sure, The Hopper Team is committed to delivering far more than the status-quo approach deployed by most area brokers. In addition to their own innovative marketing ideas, they have been inspired by trends witnessed in other world-class markets. As a young family, the Hoppers also understand the unique needs of relocation and first time homebuyers. They are well poised to service the rising demand in a marketplace full of new residents that are currently renting and likely to explore homeownership.
"I'm confident our move to Realogics Sotheby's International Realty will open up a world of opportunity for our team and for our clients alike," adds Brian Hopper. "We are all very excited."
About Realogics Sotheby's International Realty (http://www.RSIR.com) - Artfully uniting extraordinary homes with extraordinary lives, Realogics Sotheby's International Realty is a leading global sales and marketing brokerage firm in the Pacific Northwest. The Puget Sound Business Journal recognizes RSIR among the top ten largest brokerages in the region by total dollar volume. The boutique real estate firm of 120+ brokers and employees consistently ranks among the top producing within the markets that they serve with branches in downtown Seattle, Bainbridge Island, Kirkland and coming soon to Issaquah.
EDITORS NOTES: For high resolution of persons or branch offices, contact Andrea Savage at 206.448.5752 or Andrea.Savage(at)SothebysRealty(dot)com.