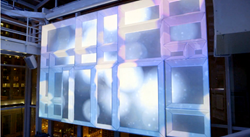 With 3D projection mapping, any object can be our canvas
Chicago, IL (PRWEB) January 16, 2015
There's still snow on the ground, and meteorologists will continue to discuss the windchill for at least the next two months, but Chicagoland based projection mapping company Chicago Projection Mapping is busy getting ready for the summer. Over the past several years, there has been an explosion in the popularity of outdoor festivals whether music, corporate or city sponsored . Some of these festivals are free to consumers while others carry with them a significant price tag, but they almost all draw significant crowds, and event organizers are always looking for ways to engage and retain those crowds.
One increasingly popular choice at festivals and outdoor music venues is to enlist the aid of a 3-D projection mapping company such as Chicago Projection Mapping. Indeed, many performing acts, including musicians and entertainers, incorporate a visual element into their routines, outdoor venues can be especially problematic. Either the visual elements must be jury-rigged into place or they are eschewed altogether, with neither case being particularly optimum. Three-dimensional projection mapping offers an alternative because there's no need for a screen.
"With 3D projection mapping, any object can be our canvas," said Mark Smith, founder of Chicago Projection Mapping. "It really gives artists and venues the creative freedom to create a holistic and immersive experience. And the more time we have to prepare for that, the more engaging we can make the finished product." That's why Chicago Projection Mapping is getting ready for the summer festival season during the cold and dreary winter months. "It comes up fast. Faster than you think," Smith said.
Getting ready for event season begins by coordinating with those festivals and performers that will be using outdoor spaces, not only in Chicago, but across the country. Three-dimensional mapping works well because a crowd will be watching performers and displays from all sides, so the outdoor projection will need to be seen from a wide variety of angles. Each custom projection project is created based on actual objects in the area—what is sometimes called video mapping.
Of course, any time you gather people outdoors, there may be a demand for three-dimensional projection mapping. These projections can become a centerpiece of any outdoor activity, draw in crowds, and keep people talking—generating excellent buzz and word of mouth. With outdoor concerts becoming more and more popular, venues will look for something to distinguish themselves from the competition. A unique, beautiful three dimensional projection is a great way to do just that—getting the crowd involved, generating great word of mouth, and giving everyone something spectacular to remember.
Chicago Projection Mapping plans to produce digital, 3D and 4D content for various festivals, not only in the local Chicago area (home to a thriving arts and music community), but also across the nation. If you're interested in making your venue come alive in a way audiences will be talking about for years, contact Chicago Projection Mapping at info(at)ChicagoProjectionMapping(dot)com.
About Chicago Projection Mapping: Based in Chicago, IL, Chicago Projection Mapping is a full service content creation and 3D projection mapping company, serving the corporate, event, meeting, and convention sectors.
CPM capabilities ...

3D and 4D Projection Mapping Design
Temporary and Permanent Installation
Consultation on All Aspects of Mapping Process
Show Design and Integration
Pre-Visualization, including storyboards and renderings
In-House 2D and 3D Animation Team
Custom Interactive Design Capabilities
Asset Reconfiguration for Brand Consistency
Integration with all major video and media formats
Custom Media Servers for flawless operation
Experience with all standard mapping hardware and software
Partnerships with regional and national hardware vendors
On-Site Setup, Mapping, and Event Operation
Remote access and operation for permanent installations
For more information, please visit http://www.ChicagoProjectionMapping.com, or call 630-620-0000.