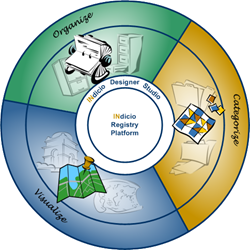 (PRWEB) January 16, 2015
"Galdos Systems is pleased to provide its powerful INdicio Registry software as a platform for building industry-specific systems faster and more efficiently", says Rob Sterpin, Vice President, Enterprise Solutions for Galdos Systems.
This European system integrator offers comprehensive development expertise in the aviation industry, ranging from single components to complete products and solutions. These components and solutions allow more valuable time for decision-making, and lead to increased safety, punctuality, speed, economy, and environmental friendliness. They are used by civil and military air navigation service providers, government agencies, civil aviation authorities, and airlines in more than 50 countries around the world.
The Galdos INdicio™ Registry is a new kind of information management solution — part GIS, part database, part document management system. A registry can organize, categorize, and manage information about anything, making things easy to find and increasing productivity, awareness, and functionality. Better information improves business understanding, and registries can deliver more complete, accurate, and timely information, leading to better decision-making.
About Galdos Systems Inc.
Galdos Systems Inc. is a software products and services company that delivers enterprise location-enabled information management solutions. Galdos is a world leader in applying GML and other open standards to automated information exchange. With a global customer base, Galdos works to help organizations share data between departments, across enterprises, and with other stakeholders and business partners. Galdos is based in Vancouver, Canada.
More information about Galdos is available online at http://www.galdosinc.com.