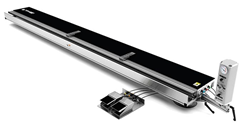 We Stretch The World
Reynoldsburg, OH (PRWEB) December 16, 2015
The new ProMod series is the most current design improvement that features a dual stage control panel with preset pressure set points and dual foot pedals for hands-free operation. The ProMod series also comes with a long-nosed staple gun, holster, staples and a universal mounting system for quick installation. The ProMod-5 will be on display and fully operational for the 3 day event.
"Users can quickly and easily produce tight, uniform stretches," says Canvas Stretching Machine co-founder Greg Moulin. "The ProMod series is ideally suited for high-production print shops and shop owners that want to impose specific stretching pressures and procedures," says Dave Weaver, Canvas Stretching Machine co-founder.
Canvas Stretching Machine manufactures machines up to 96" and will custom-make a machine to any size. They also sell their own stretcher bar in length and custom-make production workbenches to suit the needs of their customers.