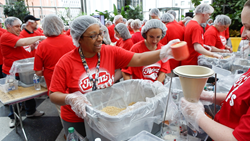 Memphis, TN (PRWEB) January 16, 2015
Stop Hunger Now and FedEx are joining forces in the fight against hunger. More than 300 FedEx volunteers will package meals for the world's hungry on January 19, 2015 in Memphis, TN, Atlanta, GA, Washington, DC, Philadelphia, PA, Newark, NJ, and Boston, MA. Stop Hunger Now meal packaging events are a volunteer-based program that coordinates the streamlined packaging of highly nutritious dehydrated meals comprised of rice, soy, vegetables and 23 essential vitamins and minerals.
"FedEx team members volunteer thousands of hours each year to help improve lives in their hometowns and in the global communities we serve" said Rose Flenorl, Manager of FedEx Global Citizenship. "A part of the FedEx culture, this passion for volunteerism extends throughout the entire enterprise. FedEx is proud to support the critical work of the Stop Hunger Now organization."
Around the world, nearly 805 million people lack adequate food. Stop Hunger Now operates meal packaging locations in 19 cities throughout the U.S. and four international locations in South Africa, Malaysia, the Philippines and Italy. More than 450,000 volunteers from corporations, churches, schools and civic organizations have packaged Stop Hunger Now meals.
Founded in 1998, Stop Hunger Now has delivered aid and disaster relief supplies in the form of food, medical supplies, clothing, school supplies and more to thousands of disaster victims and other hungry and vulnerable people in 65 countries.
Stop Hunger Now is proud to collaborate with FedEx on the Martin Luther King, Jr. Holiday in 2015. "On a day that is all about service, FedEx is showing its commitment to give back" said Chris Craven, Corporate Outreach Director at Stop Hunger Now. "We appreciate people taking time out of their own holiday to package meals for the hungry."
For more information contact Chris Craven - Corporate Outreach Director at Stop Hunger Now, 951-551-8732 or Lori Walton – Media Relations at FedEx, (901) 361-0054.
For more than 15 years, Stop Hunger Now has been creating a movement to end hunger with more than 140,000,000 meals distributed along with other aid to 65 countries. Driven by a mission to end hunger in our lifetime, the organization provides food and life-saving aid to the world's most vulnerable and helps mobilize the necessary resources impacting millions of lives.
Stop Hunger Now meal packaging programs offer volunteers the opportunity to participate in a hands-on international hunger relief program and to become educated, engaged advocates for the world's poor and hungry. In 2013, Stop Hunger Now packaged 38.6 million meals in the U.S. and an additional 3.3 million meals were packaged by international locations.
In its efforts to respond to emergency needs around the world Stop Hunger Now receives and distributes significant donations of in-kind aid. These donations are large quantities of food, medicines, medical supplies and other such items as may be of use in fighting hunger and providing relief in a crisis. For more information visit http://www.stophungernow.org.
.
FedEx Corp. (NYSE: FDX) provides customers and businesses worldwide with a broad portfolio of transportation, e-commerce and business services. With annual revenues of $47 billion, the company offers integrated business applications through operating companies competing collectively and managed collaboratively, under the respected FedEx brand. Consistently ranked among the world's most admired and trusted employers, FedEx inspires its more than 300,000 team members to remain "absolutely, positively" focused on safety, the highest ethical and professional standards and the needs of their customers and communities.