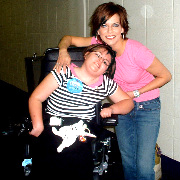 It was the happiest day of Ashley's life.
Holiday, Florida (PRWEB) January 15, 2015
Kids Wish Network sends congratulations to one of its Guardian Angel Wish Sponsors Martina McBride on the announcement she will be receiving a humanitarian award. The Music Business Association (Music Biz) announced it will be honoring McBride with its prestigious Harry Chapin Memorial Humanitarian Award in May 2015. McBride is noted for her charitable work, including granting a wish with Kids Wish Network.
The children's charity and McBride helped make Wish Kid Ashley's dream come true. Ashley suffered from mitochondrial disorder complex III, a severe and very rare form of muscular dystrophy. Diagnosed at 3 years old, Ashley developed substantial muscle and nerve damage in her extremities as a result. In September 2003, she suffered a stroke and developed pneumonia shortly after.
Despite her medical struggles, Ashley was overjoyed to be granted her wish and smiled throughout the event. She gave McBride a huge hug and the pair spent time talking about singing, school, and hobbies. Ashley asked McBride to sing "Concrete Angel" for her and the superstar more than obliged, giving Ashley her own "private" concert and encouraging her to sing along.
Ashley did not hesitate in singing with her hero in spite of dealing with less than 15% lung capacity. She belted out each word of the song grinning from ear to ear. After the meeting, Ashley and her family settled into their seats to watch the concert. Ashley sang the words to every song and her parents danced the night away with tears of happiness in their eyes; McBride even blew Ashley a kiss from the stage.
You can view the touching video of Ashley's wish at https://www.youtube.com/watch?v=aZ8iXc-rBqo.
Sadly enough, Ashley passed away soon after her wish was granted. "She told me that she was happy and at peace because her wishes had been fulfilled," said Ashley's mom. "It was the happiest day of her life."
Kids Wish Network thanks McBride again for making Ashley's dream come true and congratulates the country star on her upcoming award.
"I believe that anyone blessed enough to achieve success has a responsibility to help those in need," McBride said to Music Biz. "While my goal was never to be recognized for my charitable efforts, this award is proof that we can all make a difference, no matter how small, in the lives of others. I hope this recognition will encourage more people to support worthy organizations that speak to their hearts."
McBride will be presented the award on May 14, 2015, during the Music Biz Award Luncheon hosted at the Sheraton Nashville Downtown Hotel. For more information on the event and McBride's recognition, visit http://musicbiz.org/press-releases/martina-mcbride-receive-humanitarian-award-music-biz-2015/.
Kids Wish Network is a charitable organization dedicated to infusing hope, creating happy memories, and improving the quality of life for children having experienced life-altering situations. Visit http://www.kidswishnetwork.org to learn more and find out how you can help makes dreams come true.