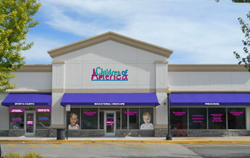 "Our childcare program has incorporated a nutrition and fitness foundation as part of the value programming we offer so we thought it fitting to extend this approach with a top-notch Sports facility" said Jim Perretty, President of Children of America
(PRWEB) January 20, 2015
Adding to its daycare portfolio Children of America is opening its 5th school in New York state, specifically Mohegan Lake in the Cortlandt Town Center. Along with the 10,000 sq. ft. daycare facility is a 10,000 sq. ft. playground and an 8,000 sq. ft. indoor Sports Courts at its side. The core business model for Children of America has always been childcare but for Mohegan Lake residents an additional sport facility has been added, bringing sport + fitness programming to local residents.
"Our childcare program has incorporated a nutrition and fitness foundation as part of the value-added programming we offer so we thought it fitting to extend this approach with a top-notch Sports facility," said Jim Perretty, President of Children of America.
Perretty went on to say, "We are launching this new business model, for the first time in Mohegan lake and believe it will be a win-win for our childcare families as well as the community itself."
COA childcare, will serve infants, toddlers, preschoolers and school-aged children for families in Westchester County. A Grand Opening Event is scheduled at Children of America, 3093 East Main Street Mohegan Lake, NY 10547, Saturday, Jan. 24 from 10 a.m. to 2 p.m. The event will feature games and refreshments for the whole family with special enrollment offers. Town supervisor Linda Puglisi will be on site for the proclamation and ribbon cutting ceremony.
Tours will be available during the event as well as an introduction to the many value-added programs the school offers. Programs such as, the "Bentley" book series, an original series written from the school's dog mascot point of view, a nutrition program with licensed nutritionist, with helpful eating tips and menus, athletic programs for youngsters and daily electronic reporting via email for parents.
"The Sports Courts facility is designed to enhance the sport experience. Whether you have a passion for basketball, or volleyball or just like to hone your skills at the batting cage, we have a program that will fit your needs," Mr. Perretty says. "This facility will be state-of-the-art, and include various sport courts, professional batting cages, agility and movement training, and offer Sport themed B-Day parties for the local children."
Chris Gifas, AKA "Coach Chris", has been selected to oversee the Sports Courts and brings 10 years of experience as a certified instructor in basketball, soccer, baseball and the like. "This will be a special place where we provide a unique combination of sports and athletic training and classes for children and the community," says Mr. Gifas
Sports Courts programing will serve a variety of interests for children, teens, adults, and families. Free one-day passes are available.
About Children of America Educational Childcare & Academy
Founded in 1997, Florida-based Children of America is a leading provider of high-quality childcare and after-school programs. With over 1,500 employees, the firm operates nearly 70 schools in Delaware, Illinois, Indiana, Maryland, Massachusetts, New Jersey, New York, North Carolina, Ohio, Pennsylvania, Virginia and Wisconsin. An industry pioneer, Children of America is a subsidiary of World Wide Child Care Corp. Visit Children of America for more information or interact with COA on Twitter and Facebook.