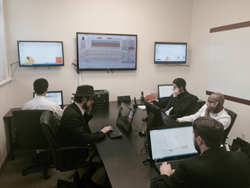 More than 1.4 million jobs available in the US by 2018
Austin, TX (PRWEB) January 20, 2015
Supply chain career opportunities are exploding with more than $1.4 million jobs in the US. (Fortune, May 1, 2014; http://fortune.com/2014/05/01/wanted-1-4-million-new-supply-chain-workers-by-2018/)
This interactive series improves learning and understanding of the holistic supply chain process taking students from raw materials to finished goods using real-world simulated and monitored transactions. Participants learn by participating in a virtual supply chain across multiple job roles and responsibilities including: Junior Buyers, Production Planners, and Inventory Control Analysts. Using business intelligence, participants learn to recognize signs of problems before they disrupt business operations.
The Supply Chain Workshop, developed and managed by VChain Solutions http://www.vchainsolutions.com is open to anyone with an interest in pursuing a career in or learning about supply chain management. This includes individuals that are unemployed seeking a new dynamic career, returning veterans, existing entry level supply chain professionals seeking to improve communications and decision making skills, and new graduate students that have not had exposure to supply chain before. Also, if you are an employer seeking to improve supply chain performance within your organization, this course is ideal for individuals or entire departments or teams to learn to work together to resolve different supply chain issues.
The course utilizes one of a kind supply chain simulation technology that challenges users to successfully manage a company's supply chain under various disruptive conditions. Participants learn to solve complex supply chain issues in the most effective manner because they learn by doing. The technology measures the performance of the participants based on the same metrics that companies use to measure their own performance such as inventory turns, on-time delivery, reduced costs, higher profits, and more. Participants learn the best course of action through trial and error while they improve their communications and decision making skills. The simulation interacts with real people serving in virtual supply chain roles around the world. The course covers the roles and duties of a buyer, planner, and inventory control analysts.
Register today at http://www.national.edu/continuing-education/Executive for this intensive, practical, 3-day supply chain simulation workshop. The online course starts January 28 – 30, 2015 and runs from 9am to 5pm each day. The workshop simulation cost including materials is $3,900 (Military discounts are available). Other workshops available include: Supply Chain Technology and Business Analytics, Purchasing and Procurement, Production Planning, and Production Control.
About the Roueche Graduate Center at National American University
The Roueche Graduate Center at National American University in Austin, Texas offers a range of graduate business programs and specializations, nursing and healthcare programs, a Doctorate of Education in Community College Leadership, and executive education programs for leadership and innovation in high-growth industries.
About VChain Solutions, Inc.
VChain Solutions provides supply chain training solutions to high schools, colleges and Fortune 1000 companies. Our revolutionary supply chain simulation software, VChain ProActive, gives students and supply chain professionals a robust learning tool that maximizes learning with common, real world scenarios.