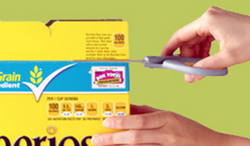 Avitus Group believes in giving back to our communities and our schools. Students are our future and the next generation of business owners and leaders. -Dianne Parker Avitus Group PR Manager
Billings, Montana (PRWEB) January 19, 2015
Avitus Group employees collected 500+ box tops this year for the national Box Tops for Education program. The employee committee voted to donate the tops to Newman Elementary school in Billings, Montana. The Box Tops for Education program donates money to local schools for each box top collected.
"If we can help our local schools and communities, even at 10 cents at a time, we will. Avitus Group believes in giving back to our communities and our schools. Students are our future and the next generation of business owners and leaders," Says Dianne Parker, Avitus Group Public Relations Manager.
For each box top donated, the participating school receives 10 cents to be used for educational tools, playground equipment and class room essentials.
Avitus Group has box top donation boxes in the employee break rooms and encourages employees to save the tops to help local schools and hundreds of area children.
"Many goods qualify for the box top program and many of these products are already in people's cabinets at home. It just makes sense for Avitus Group to take part in this great program," says Sonja Tafelmeyer, Avitus Group Employee Event Committee Chair.
Avitus Group is a worldwide company, based out of Billings, Montana. Avitus Group helps other companies with administrative hassles. When businesses use Avitus Group, all of the necessary, yet burdensome functions of the business become Avitus Group's responsibility, so the business can focus on what they do best, grow and increase profits. Avitus Group serves clients nationwide through 10 regional office locations from California to Florida. The company also serves international clients through partner locations in Europe, Canada, China, England, India, Japan and Singapore.