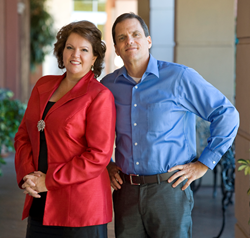 "Not a day goes by that our team isn't touched or inspired by the acts of generosity we see – whether from donors, fellow team members or business partners we've met through our work," said Miller.
Sarasota, Florida (PRWEB) January 16, 2015
Veronica Brandon Miller and Rick Hughes from Goodwill Manasota are taking their feel-good message celebrating philanthropy to the airwaves with a new radio show, "Tell Me Something Good." The show, which airs on Sundays on WSRQ (98.9FM, 106.9FM and 1220AM) at 11:00am, focuses on the good that is happening in the Sarasota-Manatee community, highlighting those individuals, nonprofits and businesses that give generously of time, talent and treasure.
"Not a day goes by that our team isn't touched or inspired by the acts of generosity we see – whether from donors, fellow team members or business partners we've met through our work," said Miller. "We talked about how wonderful it would be to share these stories with the community at large so that they, too, could be inspired. Thanks to WSRQ, we have an outlet to talk about the many acts of philanthropy taking place in our community, and honor those who are committed to improving the lives of others."
"The partnerships we have developed with local companies and community leaders speak volumes – not only about our mission, but the philanthropic community in which we live and work," said Bob Rosinsky, president & CEO of Goodwill Manasota. "This new venture is one more way for us to highlight the great things we are able to be a part of so we can bring attention to new programs, services and the fantastic people and companies that we've been able to partner with in our community. It's another chance for us to say 'Thank you' for helping us change lives through the power of work."
The show debuted on Sunday, January 11. Guests were Harriet Roberts of Garden of the Heart Yoga Center – with whom Goodwill partners on free outreach yoga programs for veterans and children with special needs – and Steve Altier of Seaside National Bank, who discussed his own charitable involvements.
Upcoming programming includes: January 18: Tim Holliday of Children's World Uniform Supply and Sue Stewart, executive director of the Girls Scouts of Gulf Coast Florida; January 25: Goodwill Team Member Tommy Brannan and Ellen McLaughlin of Schoolhouse Link; February 1: Sondra Kennedy, mother of Goodwill "2014 Employee of the Year" Gracie Mohn, and Morgan Howell, Goodwill Manasota Program Manager of Mission Employment.
Miller serves as the vice president for the Foundation, the philanthropic arm of Goodwill Manasota, a 501 (c)(3) organization. With more than 25 years extensive experience in development and cause marketing, she has successfully helped Goodwill to increase its revenues approximately 1,000 percent and secure national and international media coverage.
She moved to Sarasota nine years ago from Washington, D.C. where she worked at the Smithsonian Institution and the Navy League of the United States, facilitated the opening of the Lowe's Home Improvement Warehouses' nonprofit and assisted the Home Safety Council with its marketing and development. She earned her Bachelor's degree from Boston University in marketing and graphic design, and her MBA from the University of Maryland. She has received many awards for marketing and has been published in many fundraising and marketing publications.
Hughes serves as the Director of Community Outreach for Goodwill Manasota. He works to connect dots, manage relationships and create partnerships. Previously, he enjoyed more than 20 years in the real estate business. He moved to Sarasota in 1997 and, a month later, was named the manager of the Michael Saunders & Company Palmer Ranch office.
After many years as a Rotarian and community activist, Hughes transitioned from real estate to the nonprofit world to "do what feels good." His varied business and life experience includes owning and running a racquet sport pro shop, founding the Sarasota Actors Workshop, creating the original AnythingArts.com, studying acting at the Asolo and improvisational comedy and playwriting at Florida Studio Theatre, performing stand-up at McCurdy's, writing for situation comedy at USF Tampa, and creative writing with Gotham. Hughes has produced, shot and edited more than 50 video shorts for local nonprofits. Hughes earned his BA in Communications from Salisbury University.