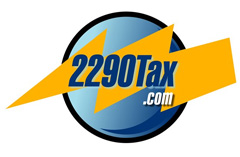 La Verne, CA (PRWEB) January 20, 2015
2290Tax.com is advising clients and other truckers that International Fuel Tax Fourth Quarter IFTA tax returns are due next month on February 02, 2015. All truckers with IFTA licenses are required to file, even if their vehicles traveled no miles or if all of the miles traveled fell within the base jurisdiction. Each return should disclose the amount of fuel purchased and the total miles traveled per jurisdiction for all trucks with an IFTA license. Along with the return, any taxes due must be submitted by the February 02, 2015 due date. Returns can be filed by mail or online depending on the jurisdiction; mailed forms must be postmarked by the due date, while online returns must be submitted and confirmed before midnight on the due date. Truckers that fail to file by the deadline may face penalties and interest. Truckers that file incompletely or fail to file risk these same sanctions as well as potential IFTA license revocation.
2290Tax.com encourages truckers to use this opportunity to review and organize their relevant records. Truckers should keep records verifying all of the information provided in the IFTA return. This includes logs of trip dates and routes, records of total miles traveled and miles per jurisdiction, and receipts verifying the type and amount of fuel purchased. All of these records should be kept for at least four years from the date of the quarterly tax report or the filing date; to avoid confusing date issues, a retention period of five years is advisable. 2290Tax.com recommends organizing all of these records early in the quarter, as this helps truckers ensure that they are prepared for quarterly IFTA returns and other approaching filing deadlines. For more information, please visit http://www.2290tax.com/blog/year-end-record-keeping/.
About 2290Tax.com
2290Tax.com is a family-owned, California-based company that has served the trucking industry for over 80 years; during that time, the company has progressed from helping truckers purchase and register trucks to assisting truckers in correctly preparing and filing complex 2290 tax forms. 2290Tax.com offers customers convenience with services that streamline the tax return and payment process, such as online recordkeeping and e-filing; the company also ensures that customers receive all of the support that they need through online materials and live help from real people on the phone. To learn more about 2290Tax.com, please visit http://www.2290tax.com.