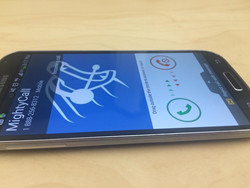 "...It's an honor to be named among many of the other companies on this list. It's proof that our virtual phone solution is helping our customers provide better service to their customers." - Stijn Hendrikse, CMO of MightyCall
Seattle, WA (PRWEB) January 23, 2015
MightyCall has earned a spot in GeekWire's 200 which is an index of the most prominent up-and-coming startup companies in the Pacific Northwest. They ranked 7th against the other B2B SaaS companies and 66th overall. MightyCall has grown to over 20,000 customers, all while managing to not spend a penny on advertising.
Stijn Hendrikse, CMO of MightyCall, said: "It's fantastic to be recognized by a leading publication like GeekWire. It's an honor to be named among many of the other companies on this list. It's proof that our virtual phone solution is helping our customers provide better service to their customers."
MightyCall was able to quadruple their revenue, without an advertising budget, by focusing their efforts on search engine marketing; in layman terms, showing up in Google search results. They listed the details of exactly what they did, here.
Many small businesses use MightyCall because of their features, some of which include:

A click-to-call 'contact us' page for websites.
The redesigned iOS 8 and Android app for managing your business on the go.
The ability to customize call menus, call forwarding, and ring multiple devices at once.
Business SMS (text messaging).
MightyCall's service also aims to help small businesses with:

Helping them look more professional.
Reducing customer churn rates.
Improving their customer's experience.
Protecting the business owner's privacy.
A few word from MightyCall's customers:
"I looked at other VoIP PABX systems, and those cost up to $1,500 just to get started for equipment that would have to be maintained over time. With MightyCall, for $40 a month, everything is taken care of for me. And MightyCall simply works." – Owner of BokeBowl
Joe Lehnerd of NMF says, "Privacy is really important for me, and MightyCall lets me use my cellphone without revealing my personal number. I also really like that my customers can click-and-call from my webpage, or call my business number, and those calls come to my cellphone."
If you would like to learn more about MightyCall, click here.