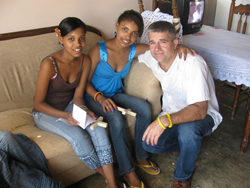 Phoenix, Ariz. (PRWEB) January 23, 2015
According to a new study released this week by Oxfam, the combined wealth of the world's richest 1 percent will be greater than that of everyone else by next year. These findings come just in time for the World Economic Forum meeting taking place in Davos, Switzerland, where poverty and income inequality will be discussed by world leaders.
Possible global solutions to address this growing income divide include changes in the tax structure, government investment in free public services such as health and education, and an increase in the minimum wage. While these actions are being debated, those living in poverty continue to suffer.
Organizations like Food for the Hungry (FH) are filling a much needed role with programs that bring lasting solutions to communities suffering from extreme poverty. One such FH program is its child sponsorship program, which has been improving the lives of children living in poverty since 1978. Today, the program is serving nearly 84,000 of the world's most vulnerable children with programs that help them thrive and have a productive future, but there are still more that need help.
The FH child sponsorship program directly helps children by providing access to clean water and nutritious food, medical care, a poverty-busting education, and parent training and community projects that directly impact the child's quality of life.
To read stories about how the FH child sponsorship program has impacted the lives of individuals around the world, visit the FH blog here.
While world leaders and governments continue to work on global solutions for poverty and income inequality, individuals can take immediate action and make a positive and lasting impact on those living in devastating poverty. Learn more about the FH child sponsorship program and how you can make a difference in a child's life at https://fh.org/give/sponsor.
Founded in 1971, Food for the Hungry provides emergency relief and long-term development programs with operations in more than 20 countries to help the world's most vulnerable people. Learn more by visiting http://www.fh.org. Social connections include http://www.facebook.com/foodforthehungry and http://www.twitter.com/food4thehungry.
###