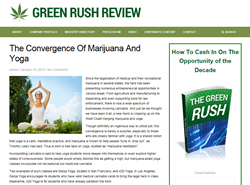 San Francisco, CA (PRWEB) January 16, 2015
The legalization of medical and recreational marijuana in several states across the country has resulted in the sprouting of various entrepreneurial opportunities. GreenRushReview.com, a marijuana business news website, recently reported on the convergence of yoga and marijuana through classes such as Ganja Yoga and 420 Yoga.
There are numerous reasons why individuals do yoga, such as wanting a physical workout, wanting to experience a higher state of consciousness, and wanting to find relief from physical pain. One way to achieve these objectives is by enrolling in a yoga class that incorporates the use of marijuana.
Cannabis plants contain cannabinoids that send brain signals to release more dopamine and to enhance the feeling of pleasure. The substance also helps individuals to get rid of their inhibitions, and is believed to have powerful properties that may be beneficial to a person's health.
Ganja Yoga, as described by an article on SFgate.com, adds cannabis to the overall experience in order to help bring a person's practice to a state of heightened spiritual consciousness that may not be reached otherwise.
According to their website, the use of marijuana in 420 Yoga brings an entirely new dimension to yoga practice, with students reporting an increased sensitivity to energy and heightened body awareness. The class is home to a comfortable, come-as-you-are vibe.
While Ganja Yoga encourages participants with medical cannabis cards to bring the substance to class, 420 Yoga is mainly for students who have already consumed the herb beforehand.
According to the SFgate.com article, yoga historians claim that the yoga-marijuana combination actually dates back thousands of years, when the ancient yogis consumed charas, hashish, or bhang (a beverage made from the flowers of the female cannabis plant) in their everyday asanas and meditation.
Classes that mix both yoga and marijuana are not yet widely available in the U.S. Apart from the Ganja Yoga class in San Francisco and 420 Remedy Yoga in Los Angeles, a small number of marijuana-friendly yoga classes have begun to appear in states such as Colorado, where the substance is considered legal.
There are, of course, yoga practitioners who disapprove of marijuana meditation, seeing the latest fad as another means for students to get high. Marijuana-aided yoga classes, however, incorporate medicinal cannabis and not its recreational counterpart.
While this convergence is an new option for individuals interested in getting the most out of their yoga sessions, it also appears to be a potential business opportunity for entrepreneurs. Numbers from Statistic Brain show that as of July 28, 2013, there were more than 15 million yoga practitioners around the country, with 44 percent of them earning over $75,000 each year. When coupled with the 60 percent growth rate in the marijuana industry, the yoga-marijuana tandem promises to be a profitable one.
GreenRushReview.com strives to be a convenient and reliable online resource for all medical marijuana consumers, entrepreneurs, and investors. The website aims to provide the general public with extensive coverage on features, news, and opinions on the multi-billion marijuana industry and culture in North America, including industry articles, stock news, company profiles, trend developments, investment opportunities, legislation and more. The site also hosts press releases, videos and a large cannabis related business directory.
The coining of the term "Green Rush" refers to the swift surge of activity brought about by the legalization of medical marijuana in over 23 states, and the acceptance of comprehensive cannabis and medical marijuana programs.
Green Rush Review sifts through the abundance of material on the marijuana industry available both online and offline, only publishing high-quality information that is significant to its readers.
GreenRushReview.com is part of a portfolio of cannabis industry sites which includes http://www.bestmedicalmarijuanastocks.com (top medical marijuana company news), http://www.marijuanastocksreport.com (cannabis small cap stock news) & http://www.marijuanastock.net (financial cannabis company news).
Companies seeking exposure on GreenRushReview.com can contact editorial(at)greenrushreview(dot)com for more information.