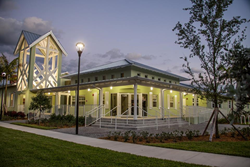 The Bells first encouraged us to dream of the possibilities and then enabled us to achieve the vision through unprecedented support of the organization through several matching grants. They have been an enormous blessing!" Brent McLaughlin, Exec. Director
Miami, FL (PRWEB) January 16, 2015
Branches will celebrate the official grand opening of the new Trish and Dan Bell Family Branches Center-Florida City Campus facility on Thursday, January 22. The facility is located at 129 SW 5th Avenue, Florida City 33034. The Open House will take place from 12pm to 6pm, with a formal program beginning at 3:30pm. Over 150 guests are expected, including several VIPs. Branches Florida City provides holistic and long-term services to help families break the cycle of poverty through educational opportunities, financial stability services, after-school programming, youth development, hunger relief and much more.
Branches Florida City was founded by the United Methodist Church, and began very simply by serving 20 children over 20 years ago. Today the programs serve several hundred but the dream of serving even more children and families through a new facility is has become a reality. The new 11,000 square foot facility, built on land provided by the United Methodist Church, will enable Branches to more than triple the number of children and families currently being served, which is sure to have a long-term positive impact on this community. The new building features several classrooms, a recreation room, a computer lab, a covered patio space, a large multi-purpose room and space for a large future playground. This facility also houses the United Way Center for Financial Stability of South Dade, which will provide comprehensive financial coaching and trainings.
Trish and Dan Bell have been anonymously supporting Branches since 2005 through generous matching grants and an endowment for summer camp scholarships provided to children. Combined, they have contributed or pledged nearly $7,000,000 to the organization to date. During this timeframe, Branches has scaled operations from one site and less than 1,000 served to four sites throughout Miami-Dade County serving over 11,000 children, youth and adults each year. The organization has grown to nearly 60 employees and is supported by over 150 active volunteers. Branches has a 100% high school graduation rate among its students who have stayed in the Branches program through high school, and it currently has 19 of its students in college, many of whom are the first in their families to attend college.
Significant support for Branches has also been provided by several major foundations and key partners, including the Batchelor Foundation, Children's Trust of Miami-Dade, Citi Foundation, Himan Brown Charitable Trust, Patrick P. Lee Foundation, Helen's Hope Foundation, Ocean Reef Community Foundation, Peacock Foundation, and United Way of Miami-Dade as well as numerous individuals.
To support Branches and make a gift to either the Building Up Branches Capital Campaign or the annual operational campaign, please contact Isabelle Pike at ipike(at)branchesfl(dot)org or 305-442-8306 x1002.
About Branches
For over 40 years, Branches has made a positive impact in the community by delivering on its mission to serve, educate and inspire people through student, family and financial stability services. Branches provides long-term, holistic services for motivated individuals and families. We help people grow deeper and climb higher in life by building a foundation through education so they can achieve their goals and fulfill their potential.
About the Bells
Since making Miami their home in 1977, Trish and Dan Bell have been deeply engaged in supporting the Miami-Dade community with their leadership and philanthropy. They currently serve together as Co-Chairs of the Board of Trustees of the Patricia and Phillip Frost Museum of Science; as founding members of the Advisory Committee of Branches; and as Trustees of the Florida United Methodist Children's Home. Trish is also the Chairman of the Board of Trustees of Chapman Partnership. In addition to Branches, the Bells are also major philanthropic supporters of the Frost Science Museum, Chapman Partnership, and the Children's Home as well as numerous local social service and cultural organizations. Now retired, Dan co-founded Kos Pharmaceuticals in Miami in 1988 and led the company, as CEO then Chairman, until its sale in 2006. Their son Rod Bell, is Chairman Emeritus of the Board of Trustees of Branches and a partner in the national law firm of Holland & Knight. Recently Rod was awarded the Greater Miami Chamber of Commerce NOVO award for Outstanding Board Leader for his service as Chair of the Branches Board of Trustees.