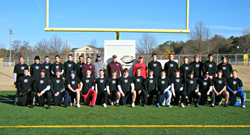 James has tremendous passion for kicking and enjoys sharing his experience with others." Michael Husted.
Phoenix, AZ (PRWEB) January 17, 2015
Kicking blog Michael Husted.com is featuring an interview with kicking coach James Rafter of Rafter Pro Training on his role as a kicking coach, his kicking business, and on being a National Camp Series (NCS) Associate, according to retired NFL kicker Michael Husted, author of Michael Husted.com.
"James has tremendous passion for kicking and enjoys sharing his experience with others," says Husted. "He has a lot of knowledge of the proper technique. Being from Orange County, CA, he brings another qualified kicking coach to the region."
Go here for the full interview at Michael Husted.com
Rafter, who coaches athletes such as Sam Martin of the Detroit Lions, Chandler Catanzaro of the Arizona Cardinals, Robert Malone of the NY Giants and Ryan Quigley of the NY Jets says he started Rafter Pro Training to be close to the game he loves so much.
"I began Rafter Pro training in March of 2004," says Rafter. "My initial reason for starting the company was to surround myself in my dream of being a pro kicker, help other athletes with similar dreams and goals and provide a living for my family. Now, I do it because it is a true calling for me and I love coaching. RPT does camps, lessons, weekly champions club, recruiting websites and films, PT sessions, consulting and athlete promotion."
Rafter says he has helped hundreds of high school athletes become great college players -with 12 of them signed to NFL teams- and that he joined NCS because of the opportunity it offers young kickers.
"I met with Michael Husted and discussed NCS in great detail," says Rafter. "Michael seemed great and full of integrity in a business that really needs it when it comes to camps and rankings. The NCS camp system, with its kicker, punter and snapper index rankings, gives athletes a great opportunity to demonstrate their skills and be compared to their peers on performance and not how much money is spent visiting the same camp and company time and time again."
Rafter adds, "Being in an industry that is solely based on performance, the NCS system has really nailed a solid way for athletes from all over to be compared and analyzed. Many great kicking coaches, former high level pros and special teams companies are now in the NCS program. These are absolutely the events and system I am happy to offer all of my athletes as a result."
Husted says having Rafter become an NCS Associate only adds to the quality of coaches provided by NCS.
"NCS Associates are some of the best kicking coaches in the country," says Husted. "NCS coaches provide the highest quality instruction to high school kicking specialists around the country and James Rafter is another high quality addition to our National Camp Series (NCS) Associates."
Go here for the full interview at Michael Husted.com
ABOUT THE NATIONAL CAMP SERIES (NCS):
The National Camp Series (NCS) is a nationwide network of expert kicking coaches with NFL and College level playing experience. The goal of NCS is to provide effective instruction on the field and guidance off of the field that will allow student-athletes the ability to leverage their sport to get a college education.
The NCS offers regional DIVISIONAL Camps, CHAMPIONSHIP Camps and an annual SUPER CAMP that helps student-athletes gain experience through competition, prove consistency through localized training, and provide exposure to colleges and universities through our objective evaluation camps utilizing the Kicking IndeX (KIX) Player Rating System.
The National Camp Series was developed by former NFL Kicker Michael Husted. After a successful NFL career, Michael determined that there needed to be a more cohesive, analytical, and effective process to coach, evaluate, and guide student-athletes looking to play at the next level.