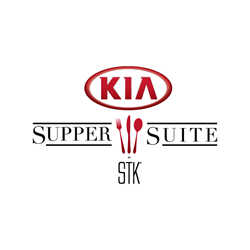 Kia is constantly innovating and evolving, and like the films set to screen in Park City, the all-new Sorento is passionately designed and obsessively crafted to stand out and raise the bar, said Tim Chanley
Park City, UT (PRWEB) January 17, 2015
Continuing its fête & feeding tour for celebrities and films premiering at North America's top film festivals, A-List Communications, along with title sponsor Kia Motors America and culinary partner STK operated by lifestyle hospitality company The ONE Group, will open the doors of its popular "Kia Supper Suite by STK" film festival pop-up on Main street at the new hotspot, Handle. For two days and nights during the 2015 Film Festival's opening weekend in Park City, Utah, the Kia Supper Suite by STK will host VIP dinners and cocktail parties with libations served by Maestro Dobel™ Tequila, and Johndrow Vineyards.
The event will be catered by The ONE Group's international steakhouse brand STK, for cast dinners, cocktail parties and daytime press junkets for top selections of the festival. The Supper Suite (owned by A-List Communications) is a pop-up culinary and hospitality haven programmed at top film festivals and Hollywood awards shows each year and was a celebrity hot spot during last year's Film Festival.
Hungry celebrities will be whisked to and from the Kia Supper Suite by STK in the fast-growing automaker's all-new, turbocharged Sorento CUV. "Kia is constantly innovating and evolving, and like the films set to screen in Park City, the all-new Sorento is passionately designed and obsessively crafted to stand out and raise the bar," said Tim Chaney, Vice President, Marketing Communications, Kia Motors America. Sorento guests will cruise historic Main Street surrounded in European-inspired styling and class-up premium materials, and be among the first in North America to experience Clari-Fi digital music restoration technology while streaming their own music through the Sorento's 630-watt, 12-speaker Infinity®2 stereo system. Clari-Fi works in real-time to rebuild audio details lost in digitally compressed music to deliver cleaner, crisper and more dynamic sound.
Professionally driven Kia Sorento vehicles will be available in Park City for transporting celebrities the festival's opening weekend, from Friday and Sunday. For celebrity transport inquiries, please contact Sabrina(at)a-listcommunications(dot)com
Official film selections, casts, producers and charities being honored over the two-day opening weekend period will include:
Friday January 23rd:

THE BRONZE starring Melissa Rauch, Gary Cole, Thomas Middleditch, Sebastian Stan, Haley Lu Richardson and Cecily Strong (SNL) with other celebrity guests expected.
THE ECHOES OF HOPE CHARITY GALA DINNER with Luc Robitaille (NHL Hall of Fame Star),Taylor Kitsch (Actor), Cuba Gooding Jr. (Actor), David Boreanaz (Actor), Jason Priestley (Actor), Andie MacDowell (Actor), Isaiah Mustafa (Actor), Michael Rosenbaum (Actor), Michael Vartan (Actor), Matisyahu (Musician), Derek Armstrong (NHL Star), Anson Carter (NHL Star), Mike Commodore (NHL Star), Mike Donnelly (NHL Star), John Ondrasik (Musician, Five for Fighting) , Jessarae (Musician), Bob Kudelski (NHL Star), Steven R. McQueen (Actor), Larry Murphy (NHL Star), George Parros (NHL Star), Pierre Turgeon (NHL All Star player), Ray Whitney ('06 NHL Stanley Cup Winner), R5 (Hollywood Records Recording Artists), Chris Klein (LA Galaxy), Allison Baver (Olympic Speed Skater), Ken Baker ( Journalist, TV personality) and more celebrities to be announced.
Saturday, January 24th:

Co-dinner for THE OVERNIGHT/ANIMALS/TANGERINE – starring Adam Scott, Taylor Schilling, Jason Schwartzman, and Judith Godrèche. The cast of Tangerine includes Kitana Kiki Rodriguez, Mya Taylor, Karren Karagulian, Mickey O'Hagan, Alla Tumanyan, and James Ransone. The Cast of Animals includes David Dastmalchian, Kim Shaw, John Heard, John Hoogenakker, John Lister, and more celebrity attendees to be announced.
GLASSLAND, starring Jack Reynor, Toni Collette, Will Poulter, and Michael Smiley, with more celebrity attendees to be announced.
This is a partial list with more celebrity attendees to be announced. Private lunches and junkets will run throughout the day.
Each event will feature a unique signature menu specially designed by Liran Mezan, Corporate Executive Chef of The ONE Group. "We're excited to head back to Park City for another Sundance Film Festival, which always inspires an innovative culinary scene year after year," said Senior Vice President, Celeste Fierro. Signature cocktails will also be created by Maestro Dobel Tequila, including its signature "Black Diamond Margarita." Wine pairing will be offered by one of the hottest boutique vineyards from Napa Valley, Johndrow Vineyards, who will be pouring its 2012 Sauvignon blanc "clarity" and their award winning 2011 reserve Cabernet Sauvignon.